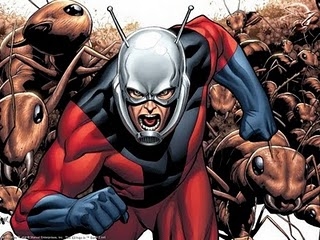 Pour l'instant les futurs films inspirés des héros Marvel sont des productions Paramount… Mais
chez Disney, on se prépare activement pour mettre en chantier de nouveaux projets
. Celui sur
Ant-man
, l'homme fourmi, alias
Hank Pym
(alias Pourpoint Jaune, alias Giant Man…) est dans les tuyaux depuis longtemps, mais les news se font rares. Ca bouge un peu du côté du futur réalisateur,
Edgar Wright
(Shaun of the dead) puisqu'il a rencontré
Stan Lee
il n'y a pas si longtemps. Mais
la nouvelle du jour, c'est…

l'achat par Disney du nom de domaine : ANT-MAN-THEMOVIE.COM.
Surveiller les achats d'adresses internet est toujours un bon moyen d'en savoir plus sur les projets d'un studio. Dans le cas présent, cela rassure sur le fait que le héros ami des insectes est toujours d'actualité ! Et pour rappel, selon les dernières rumeurs,
le film sortirait APRES les Vengeurs
…