Par Crom, c'est l'heure de… la chronologie des comics Conan le Barbare ! Ceux qui ne connaissent pas ce personnage créé en 1932 par le nouvelliste Robert E. Howard seront sans doute surpris par le nombre d'albums publiés par Panini Comics et par sa présence dans l'univers Marvel. Les aventures de Conan le Barbare – environ 10 000 av. J.-C. – se découpent en trois grandes périodes éditoriales. Dans la première (1970-2000), Marvel est à la manœuvre avec deux titres emblématiques, Conan the Barbarian (format comics, couleurs, tout public) et Savage Sword of Conan (format magazine, noir et blanc, public averti). Dans la deuxième (2003-2018), c'est Dark Horse qui prend le relais, avec une succession de séries (Conan, Conan the Cimmerian, Conan the Barbarian, etc.).
[=> La chronologie des comics Doctor Strange ! <=]
Dans la troisième (2019-…), retour chez Marvel, avec deux 'blocs'. D'un côté, on retrouve les classiques Conan the Barbarian et Savage Sword of Conan. Et de l'autre, Conan le Barbare rejoint les Savage Avengers pour vivre des aventures au présent. Comme les scénaristes font d'incessants sauts temporels dans la tumultueuse vie du guerrier cimmérien, le plus simple reste encore de proposer un ordre de lecture qui respecte l'intégrité de chaque période éditoriale et de chaque série. Sachant qu'au final, ce sont surtout les péripéties avec des personnages Marvel qui sont à lire dans un ordre précis. Si vous êtes fan de l'Âge Hyborien, n'hésitez pas à vous manifester dans les commentaires !
La chronologie des comics Conan le Barbare :
Date

Titre

Collection

Notes

1970
-
1971

Conan le Barbare : L'intégrale 1970-1971

Best of Fusion

Conan the Barbarian #1-8 ; Chamber of Darkness #4.

1971
-
1972

Conan le Barbare : L'intégrale 1971-1972

Best of Fusion

Conan the Barbarian #9-16.

1972
-
1973

Conan le Barbare : L'intégrale 1972-1973

Best of Fusion

Conan the Barbarian #17-21, #23-24 ; Savage Tales #1, #4.

1973

Conan le Barbare : L'intégrale 1973

Best of Fusion

Conan the Barbarian #25-33 + Annual #1.

1974

Conan le Barbare : L'intégrale 1974

Best of Fusion

Conan the Barbarian #34-45.

1974
-
1975

Conan : L'heure du dragon

Best of Fusion

Giant-Size Conan #1-4, Conan the Barbarian Annual #4-5 ; Savage Sword of Conan #8, #10.

1975

Conan le Barbare : L'intégrale 1975

Best of Fusion

Conan the Barbarian #46-57.

1976

Conan le Barbare : L'intégrale 1976

Best of Fusion

Conan the Barbarian #58-69.

1977

Conan le Barbare : L'intégrale 1977

Best of Fusion

Conan the Barbarian #70-81 + Annual #2.

1978

Conan le Barbare : L'intégrale 1978

Best of Fusion

Conan the Barbarian #82-93 + Annual #4.

1979

Conan le Barbare : L'intégrale 1979

Best of Fusion

Conan the Barbarian #94-105.

1979
-
1980

Conan le Barbare : L'intégrale 1979-1980

Best of Fusion

Conan the Barbarian #106-115 + Annual #5.

1980
-
1981

Conan le Barbare : L'intégrale 1980-1981

Best of Fusion

Conan the Barbarian #116-124.

1979
/
1983

King Conan

Conan Omnibus

King Conan #1-19. Une couverture variante : Panini Comics.

1976
-
1978

Savage Sword of Conan (II)

Conan Omnibus

Savage Tales #1-5 ; Savage Sword of Conan #1-12. Correspond aux tomes 1971-1974, 1975 et 1976. Une couverture variante : Panini Comics.

1971
-
1974

Les chroniques de Conan : 1971-1974

Best of Fusion

Savage Sword of Conan #1-3, #7, #17, #222 ; Savage Tales #1-5.

1975

Les chroniques de Conan : 1975

Best of Fusion

Savage Sword of Conan #4-9.

1976

Les chroniques de Conan : 1976

Best of Fusion

Savage Sword of Conan #10-15 ; Savage Tales #4.

1971
-
1976

Savage Sword of Conan (I)

Conan Omnibus

Savage Sword of Conan #13-28 ; Marvel Comics Super Special #2. Correspond aux tomes 1977 et 1978 (I). Une couverture variante : Panini Comics.

1977

Les chroniques de Conan : 1977

Best of Fusion

Savage Sword of Conan #16-25.

1978

Les chroniques de Conan : 1978 (I)

Best of Fusion

Savage Sword of Conan #26-30.

1978

Les chroniques de Conan : 1978 (II)

Best of Fusion

Savage Sword of Conan #31-36.

1979

Les chroniques de Conan : 1979 (I)

Best of Fusion

Savage Sword of Conan #37-43.

1979

Les chroniques de Conan : 1979 (II)

Best of Fusion

Savage Sword of Conan #44-48.

1980

Les chroniques de Conan : 1980 (I)

Best of Fusion

Savage Sword of Conan #49-55.

1980

Les chroniques de Conan : 1980 (II)

Best of Fusion

Savage Sword of Conan #56-59.

1981

Les chroniques de Conan : 1981 (I)

Best of Fusion

Savage Sword of Conan #60-65.

1981

Les chroniques de Conan : 1981 (II)

Best of Fusion

Savage Sword of Conan #66-71.

1982

Les chroniques de Conan : 1982 (I)

Best of Fusion

Savage Sword of Conan #72-77.

1982

Les chroniques de Conan : 1982 (II)

Best of Fusion

Savage Sword of Conan #78-82.

1983

Les chroniques de Conan : 1983 (I)

Best of Fusion

Savage Sword of Conan #85-89.

1983

Les chroniques de Conan : 1983 (II)

Best of Fusion

Savage Sword of Conan #90-95.

1984

Les chroniques de Conan : 1984 (I)

Best of Fusion

Savage Sword of Conan #96-101.

1984

Les chroniques de Conan : 1984 (II)

Best of Fusion

Savage Sword of Conan #102-107.

1985

Les chroniques de Conan : 1985 (I)

Best of Fusion

Savage Sword of Conan #108-113.

1985

Les chroniques de Conan : 1985 (II)

Best of Fusion

Savage Sword of Conan #114-119.

1986

Les chroniques de Conan : 1986 (I)

Best of Fusion

Savage Sword of Conan #120-125.

1986

Les chroniques de Conan : 1986 (II)

Best of Fusion

Savage Sword of Conan #126-131.

1987

Les chroniques de Conan : 1987 (I)

Best of Fusion

Savage Sword of Conan #132-137.

1987

Les chroniques de Conan : 1987 (II)

Best of Fusion

Savage Sword of Conan #138-143.

1988

Les chroniques de Conan : 1988 (I)

Best of Fusion

Savage Sword of Conan #144-149.

1988

Les chroniques de Conan : 1988 (II)

Best of Fusion

Savage Sword of Conan #150-155.

1989

Les chroniques de Conan : 1989 (I)

Best of Fusion

Savage Sword of Conan #156-161.

1989

Les chroniques de Conan : 1989 (II)

Best of Fusion

Savage Sword of Conan #162-168.

1990

Les chroniques de Conan : 1990 (I)

Best of Fusion

Savage Sword of Conan #169-174.

1990

Les chroniques de Conan : 1990 (II)

Best of Fusion

Savage Sword of Conan #175-180.

1991

Les chroniques de Conan : 1991 (I)

Best of Fusion

Savage Sword of Conan #181-186.

1991

Les chroniques de Conan : 1991 (II)

Best of Fusion

Savage Sword of Conan #187-192.

1992

Les chroniques de Conan : 1992 (I)

Best of Fusion

Savage Sword of Conan #193-198.

1992

Les chroniques de Conan : 1992 (II)

Best of Fusion

Savage Sword of Conan #199-204.

1993

Les chroniques de Conan : 1993 (I)

Best of Fusion

Savage Sword of Conan #205-210.

1993

Les chroniques de Conan : 1993 (II)

Best of Fusion

Savage Sword of Conan #211-216.

1994

Les chroniques de Conan : 1994 (I)

Best of Fusion

Savage Sword of Conan #217-222.

1994

Les chroniques de Conan : 1994 (II)

Best of Fusion

Savage Sword of Conan #223-228.

1978
-
1979

Conan : Les comic strips inédits - 1978-1979

Neofelis

Conan (04/09/78 au 22/12/79). [1/2]

1979
-
1981

Conan : Les comic strips inédits - 1979-1981

Neofelis

Conan (23/12/79 au 12/04/81). [2/2]

2008
-
2009

Kull : Le royaume des chimères

Best of Fusion

Kull #1-6.

2003
/
2007

Conan le Barbare

Conan Omnibus

Conan #0-28, #32, #39, #45-46 ; Conan : Book of Thoth #1-4. [1/4]

2006

Conan : La demeure des morts

Best of Fusion

Conan #24-25, #29-31, #33-34. [2/4]

2007

Conan : Le rendez-vous des bandits

Best of Fusion

Conan #37-38, #41-44, #0. [3/4]

2007
-
2008

Conan : La main de Nergal

Best of Fusion

Conan #47-50. [4/4]

2008
-
2009

Conan : Cimmérie

Best of Fusion

Conan the Cimmerian #0-7. [1/2]

2009

Conan : Le colosse noir

Best of Fusion

Conan the Cimmerian #8-13. [2/2]

2012

Conan le Barbare : La reine de la Côte Noire

100% Fusion

Conan the Barbarian #1-6. [1/4]

2012
-
2013

Conan le Barbare : Fureur sur la frontière

100% Fusion

Conan the Barbarian #7-12. [2/4]

2013

Conan le Barbare : Le cauchemar des bas-fonds

100% Fusion

Conan the Barbarian #13-18. [3/4]

2013
-
2014

Conan le Barbare : Le chant de Bêlit

100% Fusion

Conan the Barbarian #19-25. [4/4]

2019

L'ère de Conan : Bêlit - La reine de la Côte Noire

100% Fusion

Age of Conan : Belit #1-5.

2019

L'ère de Conan : Valeria - L'enfant de la guerre

100% Fusion

Age of Conan : Valeria #1-5.

2019

Savage Sword of Conan : Le culte de Koga Thun

100% Fusion

Savage Sword of Conan (v2) #1-5. [1/2]

2019

Savage Sword of Conan : Conan le Joueur

100% Fusion

Savage Sword of Conan (v2) #6-10. [2/2]

2019

Conan le Barbare : Vie et mort de Conan

100% Fusion

Conan the Barbarian (v3) #1-6. [1/4]

2019
-
2020

Conan le Barbare : Les enfants de la Grande Mort Rouge

100% Fusion

Conan the Barbarian (v3) #7-12. [2/4]

2020
-
2021

Conan le Barbare : Dans le creuset

100% Fusion

Conan the Barbarian (v3) #13-18. [3/4]

2021

Conan le Barbare : Le pays du lotus

100% Fusion

Conan the Barbarian (v3) #19-24. [4/4]

2019
-
2020

King-Size Conan

100% Fusion

Conan the Barbarian : Exodus ; King-Size Conan.

2021
-
2022

King Conan : L'ultime combat de Conan au bout du monde

100% Fusion

King Conan (v2) #1-6. Une couverture variante : Panini Comics.

2019

Avengers : Nuit noire

100% Marvel

Avengers : No Road Home #1-10.

2019

Savage Avengers : Le triomphe de Kulan Gath

100% Marvel

Savage Avengers #1-5 ; Free Comic Book Day 2019 : Avengers. [1/4]

2019
-
2020

Savage Avengers : Dîner avec Fatalis

100% Marvel

Savage Avengers #6-10 + Annual 2019. [2/4]

2019
-
2020

Conan : La guerre du serpent

100% Fusion

Conan : Serpent War #1-4.

2020

Conan : Bataille pour la Couronne du Serpent

100% Fusion

Conan : Battle for the Serpent Crown #1-5.

2020

Savage Avengers : Opération Dragon

100% Marvel

Savage Avengers #11-16. [3/4]

2021

Savage Avengers : Le roi en noir

100% Marvel

Savage Avengers #17-22. Les #17-19 se déroulent pendant King in Black. [4/4]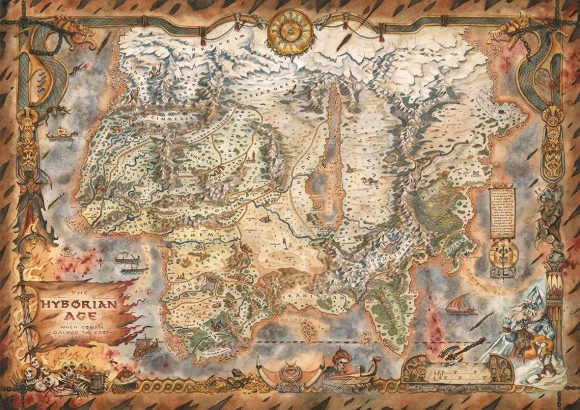 La chronologie des comics Red Sonja :
Conan et Red Sonja : Anthologies, réalités alternatives et beaux livres
La chronologie des events et des crossovers Marvel :


La chronologie des comics Avengers :

La chronologie des comics Captain America :

La chronologie des comics Iron Man :

La chronologie des comics Thor :

La chronologie des comics Hulk :

La chronologie des comics Black Widow :

La chronologie des comics Doctor Strange :

La chronologie des comics Black Panther :

La chronologie des comics Ant-Man (et les inclassables) :

La chronologie des comics Ghost Rider (et autres héros surnaturels) :

La chronologie des comics Scarlet Witch/Vision (et autres héros Disney+) :

La chronologie des comics Daredevil (et autres héros Netflix) :

La chronologie des comics Young Avengers + Runaways + Champions :

La chronologie des comics Spider-Man :

La chronologie des comics Miles Morales :

La chronologie des comics Venom :

La chronologie des comics X-Men :

La chronologie des comics Wolverine :

La chronologie des comics Deadpool :

La chronologie des comics Fantastic Four :

La chronologie des sagas cosmiques (et autres héros cosmiques) :
La chronologie des comics Gardiens de la Galaxie :

La chronologie des comics Captain Marvel :

La chronologie des comics Ultimates (et autres réalités alternatives) :