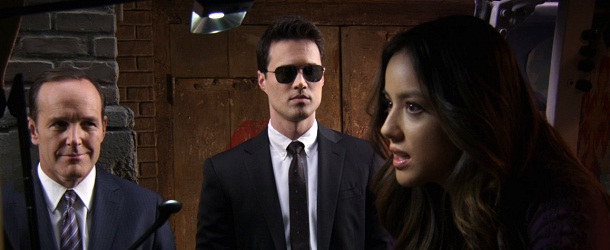 [MAJ : La HD est là !] Ah, la tête mythique de Coulson sur cette image. J'ai enfin réussi à la caser. Bref, voici le premier spot TV d'Agents of S.H.I.E.L.D., la série dont nous allons attendre sagement la diffusion en France (ou pas). D'accord, la vidéo ci-dessous n'a qu'un seul intérêt : la réaction du fan qui filme sa télévision. Donc en attendant une version officielle, il faudra composer avec son enthousiasme communicatif, un peu exagéré, puisque le spot en question ne montre presque rien de nouveau.
L'Agent Phil Coulson revient dans l'organisation mondiale chargée du maintien de la paix, le S.H.I.E.L.D. Il rassemble une petite équipe d'agents, très bien formés, pour s'occuper des affaires qui n'ont pas encore été classées, et de tout ce qui est nouveau et inconnu. Cette équipe se compose de l'Agent Grant Ward, un spécialiste du combat et de l'espionnage ; de l'Agent Melinda May, une pilote et une pratiquante d'arts martiaux ; du brillant, mais socialement maladroit, scientifique Agent Leo Fitz ; et de l'Agent Jemma Simmons. Ils seront rejoints par une nouvelle recrue civile, une pirate informatique, Skye.
La série Agents of S.H.I.E.L.D. sera diffusée à partir de la rentrée sur ABC, avec Clark Gregg (Agent Phil Coulson), Brett Dalton (Agent Grant Ward), Ming-Na Wen (Agent Melinda May), Iain De Caestecker (Agent Leo Fitz), Elizabeth Henstridge (Agent Jemma Simmons) et Chloe Bennet (Skye).