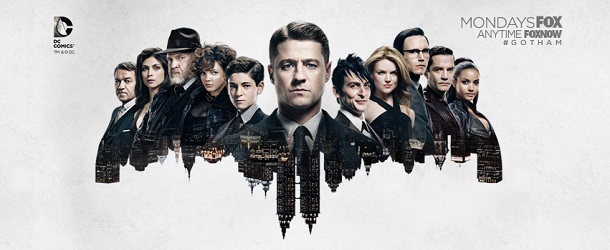 Dernier épisode avant le mid-season finale et trois mois de pause… L'Ordre de Saint Dumas prend racine à Gotham. Autrement dit, l'anti-héros Azrael va bientôt montrer le bout de sa capuche ! Peut-on faire mieux que la scène de combat dans l'ascenseur (cf. l'épisode de la semaine dernière) ? The Knife est-il aussi flippant qu'Eduardo Flamingo ? Que vous inspire le virage historico-ésotérique adopté par la série ? Bref, qu'avez-vous pensé de cet épisode ? A vos claviers !
Gotham – Saison 2 – Episode 10 – 'The Son of Gotham' – Synopsis et extraits : Gordon confronte un suspect qui est lié à Galavan, mais il n'arrive pas à obtenir des informations. Pendant ce temps, Bruce fait un pas de plus vers la découverte du nom de l'assassin de ses parents.
————————————————–
Audience US : C'est limite… Hier soir, l'épisode 'The Son of Gotham' a rassemblé 4.00 millions de téléspectateurs (contre 4.35 millions la semaine dernière). L'Inspecteur Gordon frôle donc la barre des 4 millions de fans. Une première. Sur la cible des 18-49 ans, Gotham réalise un taux de 1.4% (en baisse de 0.2 point), à seulement 0.1 point de Supergirl [chiffres définitifs]…
————————————————–
Gotham – Saison 2 – Episode 11 – 'Worse Than A Crime' – Preview : Quand Bruce Wayne est kidnappé, Gordon doit se tourner vers des alliés improbables et dangereux pour l'aider. C'est une bataille entre vilains, et tout le monde ne s'en sortira pas vivant.
La série Gotham est diffusée chaque lundi sur la chaîne FOX (et prochainement sur TF1), avec Ben McKenzie (Inspecteur James Gordon), Donal Logue (Harvey Bullock), Michael Chiklis (Capitaine Nathaniel Barnes), Sean Pertwee (Alfred Pennyworth), Robin Lord Taylor (Oswald Cobblepot/le Pingouin), Erin Richards (Barbara Kean), David Mazouz (Bruce Wayne) et Camren Bicondova (Selina Kyle/Catwoman).