« Il court, il court, le Bolide Ecarlate. / Le Bolide Ecarlate de Central City. » Sauf que non. Sur le poster de la saison 7 de The Flash, Barry Allen ose l'impensable : il se tient debout… et c'est tout ! Après toutes ces années, on ne peut qu'apprécier le fait que la Team Flash des origines soit toujours au grand complet. Mais devant ce poster qui fait un peu 'vide' – où est Nash Wells ? -, on peut aussi se dire que la série peine à imposer de nouveaux héros accrocheurs (rappelons que le personnage de Ralph Dibny va être écarté, suite au renvoi de Hartley Sawyer)…
Barry Allen a vécu une vie normale en tant que policier scientifique perpétuellement en retard au sein du Central City Police Department. La vie de Barry a changé pour toujours quand l'accélérateur de particules de S.T.A.R. Labs a explosé, créant un orage de matière noire qui a frappé Barry, lui conférant une super-vitesse et faisant de lui l'homme le plus rapide du monde – The Flash. Après un cliffhanger palpitant la saison dernière qui a vu le nouveau Mirror Master victorieux et toujours en fuite à Central City, The Flash doit se regrouper afin de l'arrêter et trouver un moyen d'entrer en contact avec sa femme disparue, Iris West-Allen.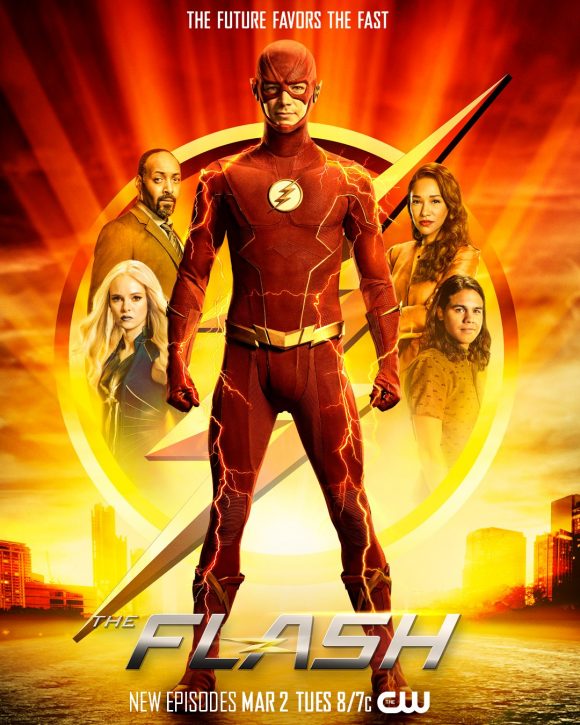 La série The Flash revient à partir du 2 mars 2021 sur la chaîne The CW, avec Grant Gustin (Barry Allen/The Flash), Candice Patton (Iris West-Allen), Carlos Valdes (Cisco Ramon/Vibe), Danielle Panabaker (Caitlin Snow/Killer Frost), Jesse L. Martin (Joe West), Danielle Nicolet (Cecile Horton), Tom Cavanagh (Nash Wells), Kayla Compton (Allegra Garcia) et Brandon McKnight (Chester P. Runk).