Après Pizza Dog, Krypto (cf. la page d'accueil du site) ! Alors que la bande annonce devrait débarquer incessamment sous peu, DC League of Super-Pets précise son casting grâce aux premières images officielles partagées par Entertainment Weekly. Ainsi, outre Dwayne Johnson en Krypto (le chien de Superman) et Kevin Hart en Ace (le chien de Batman), nous retrouverons Natasha Lyonne en Merton la Tortue, Vanessa Bayer en PB le Cochon et Diego Luna en Chip l'Ecureuil. Ces trois animaux inconnus participeront à un vrai film super-héroïque, comme l'explique le réalisateur Jared Stern : « Je voulais une menace réelle qui soit à la hauteur non seulement d'un film loufoque, mais aussi une menace sérieuse de super-héros, une menace qui ne peut être résolue que par un groupe d'animaux de compagnie. Je veux vraiment que les gens, après avoir vu ce film, aient l'impression que l'animation est une technique et non un genre. Je veux qu'ils se disent : 'C'était un très bon film de super-héros et il y avait tout ce que j'aime dans un film de super-héros : de bonnes scènes d'action et c'était vraiment amusant.' »
Dans DC League of Super-Pets, Krypto – le chien de Superman – et Streaky – le chat de Supergirl – font équipe pour combattre le crime, pendant que l'Homme d'Acier est en vacances.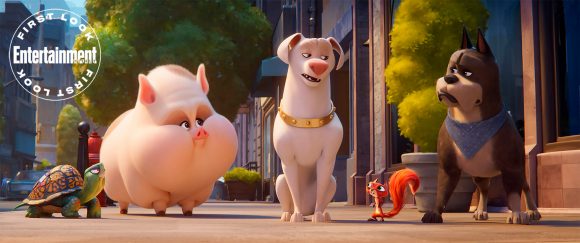 DC League of Super-Pets est réalisé par Jared Stern et sort aux Etats-Unis le 20 mai 2022, avec Dwayne Johnson (Krypto), Kevin Hart (Ace), Marc Maron (Lex Luthor), Kate McKinnon, John Krasinski, Vanessa Bayer, Natasha Lyonne, Diego Luna, Keanu Reeves et Jameela Jamil.