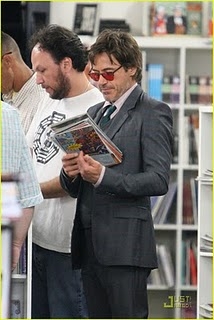 [Maj : vidéo des achats !]
Bonjour, je suis Robert Downey Jr. et je viens acheter des comics…
Mercredi dernier, l'acteur incarnant Tony Stark/Iron Man est allé faire quelques petites courses afin de préparer son rôle dans The Avengers/Les Vengeurs. Cette préparation passe par l'achat de comics dans un comic book store, tout simplement ! Saluons l'investissement personnel de Robert Downey Jr. !
Faire ses courses dans un comic shop, avec Tony Stark en personne, ça doit être assez étrange !
La grande question, c'est qu'a-t-il acheté ? Principalement des
épisodes de The Avengers, ainsi que le dernier Iron Manual
, une sorte d'encyclopédie sur le personnage qu'il interprète ! Vraiment,
ça fait plaisir de voir un acteur qui s'intéresse à son rôle
, en achetant lui-même la lecture nécessaire.