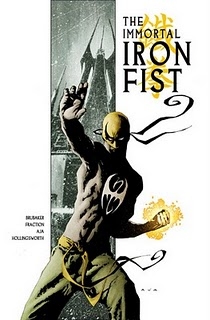 Thor
et
Captain America
pour 2011,
The Avengers
en 2012,
Iron Man 3
en 2013 (?)… Et après, qu'allons nous découvrir sur nos écrans ? Ce qui est déjà certain, c'est que le contrat de distribution avec la Paramount se terminera avec les films précédemment cités. Après ce que l'on pourrait appeler
la phase 1 des films Marvel
(le grand « plan » menant d'
Iron Man 1
à
The Avengers 1
),
la Maison des Idées envisage la suite de ses projets, qui seront distribués par Disney
. Au programme, deux grands axes se dégagent. Commençons par celui des héros méconnus. Marvel a décidé de développer
des métrages autour de superhéros moins célèbres, avec des budgets plus modérés
. Un film sur le
Docteur Strange
est en chantier (avec déjà
deux scénaristes qui y travaillent
). Aujourd'hui, le film sur
Iron Fist
progresse, avec l'engagement d'un scénariste,
Rich Wilkes
. C'est l'homme qui est derrière la franchise musclée
xXx
, avec Vin Diesel. Espérons qu'il soit la personne parfaite pour raconter les aventures de Danny Rand, le superhéros au poing d'acier, qui peut concentrer son « chi » et vaincre ses ennemis grâce à une maîtrise incroyable des arts martiaux. A l'occasion Vengeurs,
il est le créateur, avec Luke Cage, des Héros à louer
. Il y a plusieurs années, le nom de
Ray Park
, l'inoubliable Dark Maul de
Star Wars Episode 1
circulait. Mais impossible de savoir si l'information sera toujours valable en 2013/2014 !

Docteur Strange, Iron Fist, et, qui sait, Luke Cage, Black Panther
… Il s'agit d'un sacré défi pour Marvel : faire découvrir au plus grand nombre des héros aimés des fans, mais inconnus du grand public. L'autre orientation, tout aussi risquée, est de
développer la partie cosmique de l'univers Marvel
. Aucune annonce pour le moment, mais les présences du
Gant de l'Infini dans Thor
, du
Cube Cosmique dans Captain America
, et sans doute d'une race d'extraterrestre dans
The Avengers
ne sont qu'un début !
Car en 2012, après avoir vu The Avengers, va se poser la question du « Comment faire mieux ? Comment faire plus impressionnant ? ». Va-t-on assister à une lassitude du public ? En explorant le fond de son catalogue, et sa partie cosmique, Marvel prépare déjà son avenir lointain (2013 et au-delà), pour notre plus grand bonheur ! Et c'est sans oublier les Captain America, Thor et autres Avengers numéros 2 et 3, ainsi qu'un possible film sur le SHIELD !