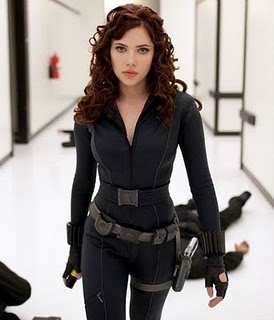 Dans la catégorie
« Marvel ne manque pas de projets »
, voici un film centré sur le personnage de Natasha Romanoff, alias
la Veuve Noire
(Black Widow) ! Interprétée par
Scarlett Johansson dans Iron Man 2
, elle pourrait donc, selon Kevin Feige, le grand manitou de Marvel Studios, avoir son propre film. Les discussions autour du film ont commencé :
« Nous avons déjà entamé des discussions avec Scarlett sur l'idée d'un film en solo et nous avons commencé à rassembler des concepts »…
La question est, à mon avis,
est-ce vraiment nécessaire
? Car pour l'instant, quand on pense « film avec une superhéroïne », c'est
Elektra
qui vient à l'esprit… Quitte à éviter la saturation du public pour les personnages Marvel,
il serait plus logique de faire un grand film sur le SHIELD
(
cela avait déjà été évoqué
), qui rassemblerait la Veuve Noire, Nick Fury, Clint Barton/Oeil-de-Faucon, etc… En attendant un hypothétique
Black Widow – The movie
, nous retrouverons la belle Scarlett dans The Avengers/Les Vengeurs.
Pour vous, un film sur Natasha Romanoff est-il vraiment utile ?
[En conséquence, le grand calendrier des futurs films Marvel a été mis à jour !]