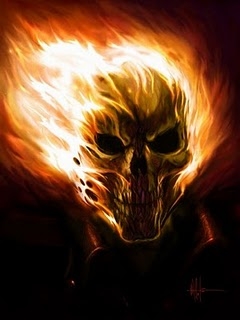 Ghost Rider 2
sur la voie du succès, ou du moins, de la qualité ? Nous verrons, mais ça part plutôt bien.
Nicolas Cage
reprend son rôle de
« Spirit of Vengeance »
(il s'agit justement du sous-titre du film), et il sera bien accompagné ! Pour jouer
le Diable
, rien de moins que César en personne, ou plutôt l'acteur qui l'incarnait dans la série
Rome
, j'ai nommé
Ciaran Hinds
(
Munich, Harry Potter 7, Miss Pettigrew
) ! Avec son regard, je n'ai aucun mal pour l'imaginer en maître du Mal ! Beaucoup plus charmante ,
Violante Placido
, une actrice et chanteuse italienne (à l'affiche bientôt dans
The American
, avec George Clooney). Voici une photo de la belle. Déjà fan ?
Mais revenons à nos démons avec un court synopsis qui a été dévoilé : l'histoire suit Johnny Blaze, alias Ghost Rider (Nicolas Cage), se cachant dans des régions isolées d'Europe de l'Est et luttant pour réprimer sa malédiction. Blaze est recruté par une secte afin de contrecarrer le Diable (Ciaran Hinds), qui veut prendre possession du corps de son fils mortel, le jour de l'anniversaire du garçon. Violante Placido sera donc la mère du rejeton démoniaque… Le tournage débutera le mois prochain en Roumanie et en Turquie, avec un duo à la caméra, Mark Neveldine et Brian Taylor (les deux Hypertension). Sortie du film en février 2012 !