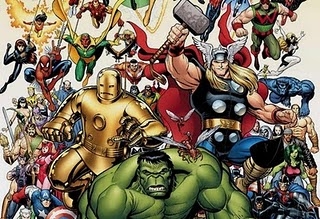 Le genre de
nouvelle dingue
que seul Marvel peut nous offrir… Dans une interview accordée au site
Bleeding Cool
, Paul Gitter, le président des produits dérivés chez Marvel parle figurines, jouets, vêtements… Il annonce aussi un logo «
Avengers Assemble
» (Vengeurs, rassemblement) qui sera visible sur tous les produits dérivés Marvel. Mais ça, concrètement, on s'en fout, comparé à une phrase qu'il lâche… Lors de la conversation,
il évoque un plan de développement des films jusqu'en 2017
! Bien évidemment, il ne donne pas plus de détails.
2008-2012 marquait la première phase de Marvel Studios
:
Iron Man, L'Incroyable Hulk, Iron Man 2
, et bientôt
Thor, Captain America
. Cette phase 1 se terminera en 2012 avec le film
The Avengers
(les Vengeurs) qui est l'aboutissement d'un plan mûrement préparé.
2013-2017
(pour une fois, même moi je le dis : ça paraît loin !)
sera donc la seconde phase de l'univers cinématographique Marvel. Avec, logiquement, un point d'orgue en 2017, un énorme projet pour conclure ces cinq années.
Et là, on ne peut qu'émettre des hypothèses…
1) The Avengers 2 : Je ne pense pas. J'imagine mal Marvel attendre cinq ans pour réaliser une suite. Surtout avec le risque que cela entraine : vieillissement des acteurs, nouvelles obligations, lassitude du public. 5 ans est un délai bien trop élevé, rarissime pour une franchise à succès (car nous le savons tous, Avengers sera un immense succès, n'est-ce pas !).
2) The Avengers 3 : Déjà plus crédible. 2017, fin de la phase 2, conclusion de l'incroyable saga Avengers, pourquoi pas. Avec un Avengers 2 en 2014/2015, la date de sortie collerait. Mais quitte à conclure par quelque chose d'énorme, autant que cela soit nouveau…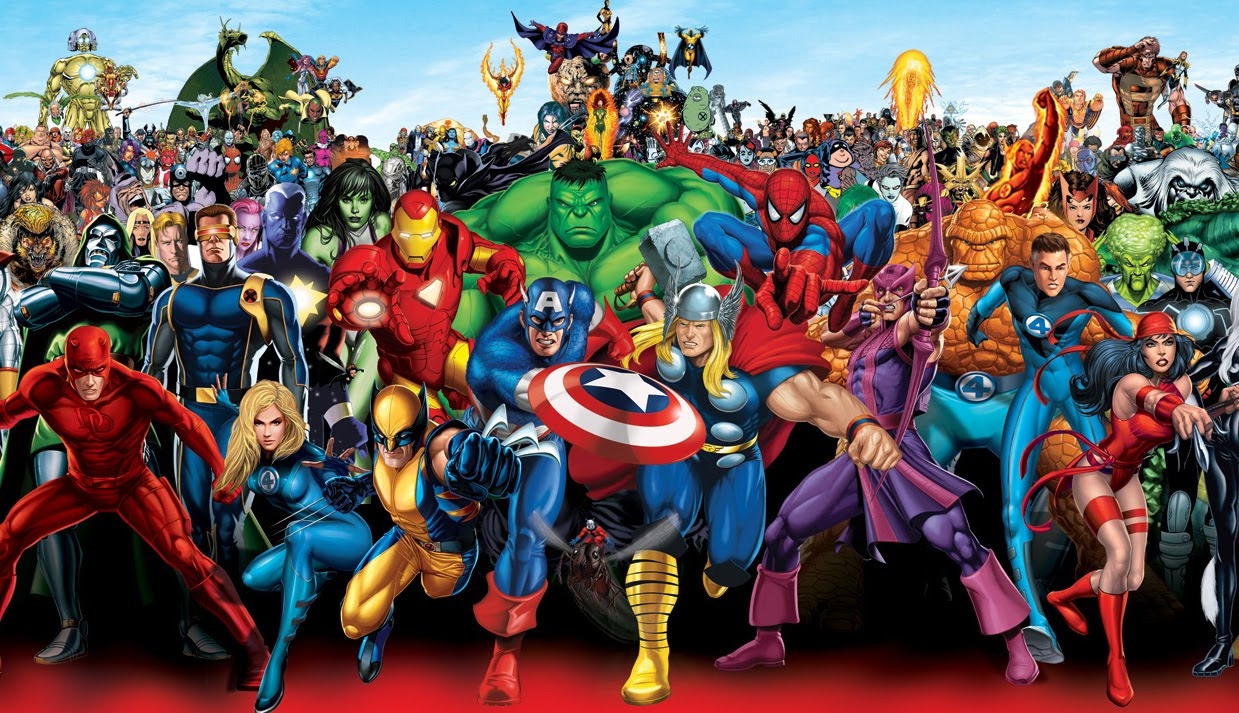 3) Marvel Crossover : D'ici 2017, Marvel aura récupéré progressivement une partie de son catalogue (Spiderman, X-Men, Daredevil, les Quatre Fantastiques…). On ne peut qu'imaginer : la Fox et Sony rebootent leurs héros sans succès, ils arrêtent les frais. Puisqu'il n'y a plus de film en production, les droits reviennent à Marvel. Ou bien, grâce à la puissance financière de Disney, Marvel rachète les droits de ses héros. Ou encore (meilleure option, la plus simple), tous les studios s'entendant pour réaliser un immense film de superhéros !
4) Marvel Cosmic : Un grand film sur l'aspect cosmique de l'univers Marvel, on en parle de plus en plus. Le gant de l'Infini, le cube cosmique : tous ces éléments seront introduits l'année prochaine. Mais il semble certain que d'ici 2017 (et en plus s'il y a succès de Green Lantern), Marvel aura déjà franchi le pas. Nova ou Captain Marvel entre 2013 et 2016, puis une grande saga cosmique en 2017 ? Le choix est vaste : la guerre d'Annihilation, Infinity War, la guerre Kree/Skrull… Les sagas cosmiques en comics sont légion !
5) Civil War : Voir Civil War sur grand écran, voilà un projet qui aurait de la gueule ! La guerre civile des superhéros nécessite la présence de personnages en nombre. Entre 2013 et 2017, gageons que le public aura fait connaissance avec le Docteur Strange, Black Panther, Ant-Man, et bien d'autres…
Et vous, comment voudriez vous conclure la phase 2 des films Marvel, en 2017 ? Quel serait le projet incroyable auquel vous rêveriez ? J'attends votre avis !