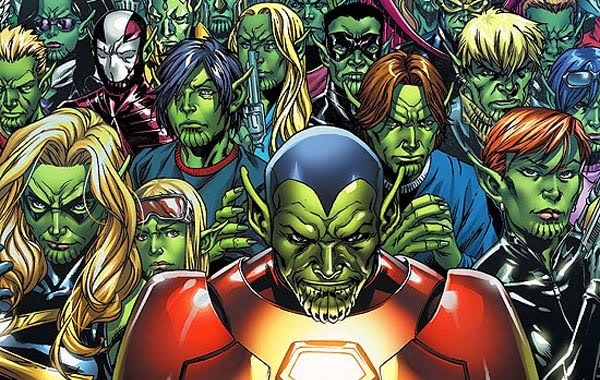 Jingle :
« C'est le retour ! De quoi ? De la rumeur ! Laquelle ? Mais celle sur les Vengeurs ! ».
Le journal d'Albuquerque (
la ville qui va accueillir le tournage
de
The Avengers
à partir du mois d'avril 2011) semble très bien informé… ou pas. L'article affirme que
les héros devront batailler avec deux races extraterrestres, les Skrulls et les Kree
. Simple relayage d'
une rumeur datant de mai dernier
, ou information véritable ? La question se pose, mais le débat est relancé ! Les Skrulls sont des extraterrestres métamorphes à la peau verte, un peuple belliqueux, un temps en guerre contre les Kree (une race de guerriers à la peau bleue). L'affrontement de ces deux empires, avec les Vengeurs au centre, est à l'origine d'une grande saga Marvel du début des années 70,
La Guerre Kree/Skrull
. Les Skrulls en cameo, je veux bien (the révélation : Coulson en est un, il prépare l'infiltration de la Terre !), mais en faire le centre du film
The Avengers
, je doute que ce soit une bonne idée.
L'équipe de superhéros doit déjà se rassembler pour la première fois, et cela demande un minimum de temps.
Or, voir l'équipe projetée dans un conflit galactique dès le premier épisode, cela me semble un peu trop gros ! Mais en conclusion de trilogie, pourquoi pas ? La guerre, les Kree, les Skrulls, et les Vengeurs, dès 2012 : pour ou contre ?

En attendant, je vous recommande la conclusion de War of Kings, l'event galactique Marvel ! A quand Rocket Racoon, le raton laveur de l'espace, et Cosmo, le chien télépathe, sur grand écran ?