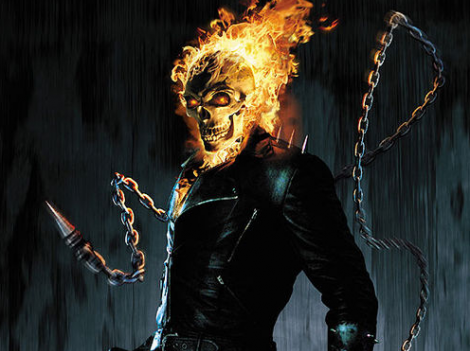 Un changement plus radical, tu meurs !
La bande annonce de Ghost Rider 2 – Spirit of Vengeance
vient de se déchainer sur la toile, et le moins que l'on puisse dire, c'est que l'opération reconquête des fans fonctionne ! Le justicier infernal n'est pas vraiment un héros tout propre et gentillet, et les réalisateurs
Mark Neveldine et Brian Taylor
l'ont bien compris (mais venant d'eux, ce n'est pas une surprise). C'est sombre, c'est sale, c'est poussiéreux… et j'adore l'utilisation des chaînes dans les scènes d'action ! Enfin
un vrai film Ghost Rider
? Pour le scénario il faudra attendre un peu pour se prononcer, mais question ambiance, c'est déjà un énorme « 
Hell yes
 » ! Le seul détail à souligner est
l'absence de flammes dans les orbites
: mais en feuilletant quelques comics, on se rend compte que les « yeux enflammés » ne sont pas systématiquement présents.
Synopsis officiel
:
Plusieurs années après le premier film, Johnny Blaze s'est lui-même exilé du reste du monde. Blaze est devenu une âme tourmentée, convaincu que ses pouvoirs sont une malédiction. L'ancien cascadeur Blaze est approché par Moreau, un membre d'un ordre monastique en lien avec Michel, l'Ange guerrier. Moreau cherche un protecteur pour une mère et son fils, qui sont traqués par un certain Roarke, un homme qui a une connaissance détaillée du Ghost Rider et de ses différentes identités à travers les siècles…
Ghost Rider – Spirit of Vengeance (L'esprit de Vengeance) sort en France le 15 février 2012, avec Nicolas Cage (Johnny Blaze/Ghost Rider), Ciaran Hinds (le Diable), Idris Elba (un moine guerrier français), Violante Placido (Nadya), Johnny Whitworth (Blackout), Christophe Lambert (un moine) et James Remar… ça va chauffer !