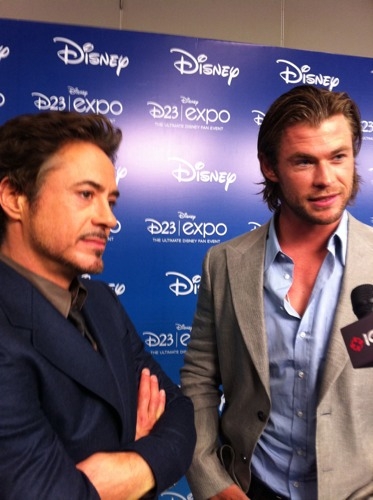 Le grand panel de la
D23
(la convention 100%
Disney
) a commencé vers 19 heures 30… Des présentations de tous les prochains blockbusters du studio aux oreilles de Mickey (dessins animés, films
Pixar
, films
live
). Mais le meilleur a été gardé pour la fin :
The Avengers
! Précisons tout de suite : la sécurité sur place a été draconienne, n'autorisant aucun appareils électroniques, rendant ainsi impossible la capture d'images. Le président de
Marvel Studios
, Kevin Feige, a d'ailleurs précisé que
les extraits projetés aujourd'hui ne seront pas diffusés sur la toile
. Comme il y a deux ans au
Comic Con
de San Diego, les Vengeurs se sont rassemblés devant un public de fans :
Robert Downey Jr.
(Tony Stark/Iron Man),
Chris Hemsworth
(Thor),
Scarlett Johansson
(la Veuve Noire),
Jeremy Renner
(Œil de Faucon),
Tom Hiddleston
(Loki) et
Cobie Smulders
(Maria Hill). Les autres acteurs (Chris Evans, Samuel L. Jackson, Mark Ruffalo et le réalisateur Joss Whedon) sont bien évidemment absents à cause du
tournage
qui se déroule en ce moment même à Cleveland.
Extrait : La séquence débute avec Loki qui entre dans une énorme cage ronde tapissée de murs en verre. Derrière lui, des portes avec serrures pneumatiques se referment, et nous voyons Nick Fury qui marche vers un panneau de contrôle. Fury explique : « Au cas où ce ne serait pas clair, si vous essayez de vous échapper, vous ne pourrez que taper sur du verre. » Fury presse alors un bouton et un énorme trou s'ouvre sous la cellule, où l'on peut voir un ciel sombre et la foudre. Nous somme sur l'Héliporteur ! Nick Fury poursuit en annonçant qu'ils sont à une altitude de 30 000 pieds (9 kilomètres). Loki complimente Fury sur sa prison, trouvant la « cage impressionnante » mais il reconnait qu'elle n'a pas été construite pour lui. Loki regarde vers une caméra de sécurité et nous voyons les différents membres des Vengeurs, dont Thor, Tony Stark, Bruce Banner, Captain America, la Veuve Noire et Maria Hill qui l'observent grâce à différents moniteurs. Fury répond qu'elle a été construite pour quelque chose de beaucoup plus fort… Loki comprend et dit : « une bête aveugle qui s'amuse à croire qu'il est encore un homme« , faisant référence à Hulk. Les deux hommes poursuivent leur discussion, abordant la question du pouvoir et du Tesseract (le Cube Cosmique). Nick Fury : « Vous parlez de paix alors que vous tuez parce que vous trouvez ça amusant. » Loki demande alors ce que cela fait d'être en présence d'un pouvoir réel, le sien. Fury s'éloigne et laisse Loki seul dans sa cellule, lui lançant une dernière pique : « Prévenez moi si le pouvoir réel veut un magazine ou quelque chose. » Et toc ! De son côté, Bruce Banner blague avec ses coéquipiers : « Il veut vraiment nous pousser à bout, n'est-ce pas ?« 

Montage rapide. Nick Fury dans une salle de réunion. Il présente l'Initiative Vengeur, qui doit rassembler une équipe d'individus remarquables, pouvant lutter contre des menaces auxquelles personne ne pourrait faire face seul. Plan rapide sur un avion de chasse survolant une ville. Sur un combat entre Captain America et Thor, ce dernier envoyant Mjolnir contre le bouclier de Rogers. Combat entre Iron Man et Captain America (décidément, Steve ne va pas se faire que des amis au début du film !). Derrière un comptoir de bar, Tony Stark se prépare une boisson, et fait un tour rapide des effectifs. Nous avons un couple d'assassins (la Veuve et Œil de Faucon). Ce dernier est montré décochant une flèche. Il utilise aussi des pistolets, mais il a bien un carquois rempli de flèches dans son dos. Nous avons un demi-dieu... Une légende vivante… Il s'adressait en faite à Loki (culte) :
Tony Stark :
Et toi mon gros bonhomme, tu as réussi à emmerder chacun d'entre eux.
Tony Stark :
Nous avons un Hulk.
Gros plan sur Hulk qui pousse un énorme rugissement ! THE AVENGERS.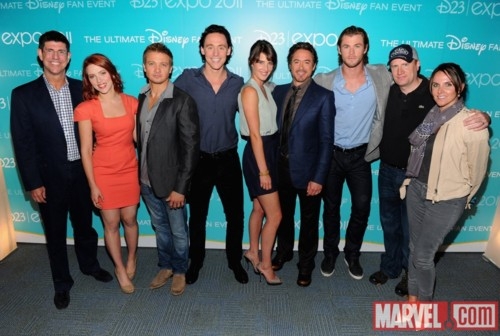 Deux informations à retenir :
– Cobie Smulders (l'Agent du SHIELD Maria Hill) a signé pour 5 films !
– Dès la semaine prochaine, le numéro de septembre d'Entertainment Weekly révélera les premières images de The Avengers, ainsi que de nouvelles informations sur le film. La rentrée s'annonce marvellous !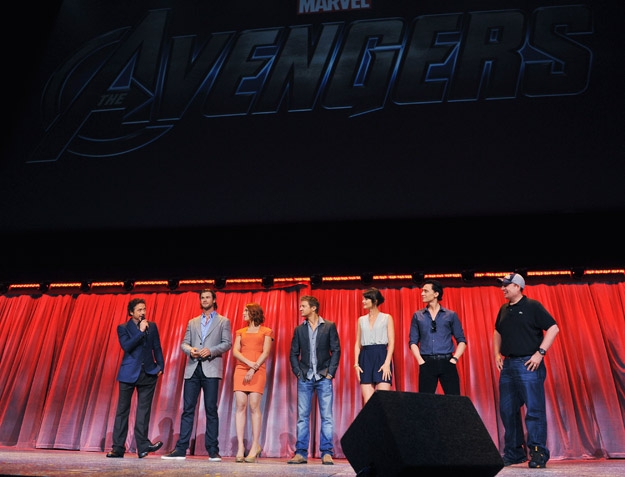 ————————————————————————————
Pendant ce temps sur le tournage :
une pensée pour l'incroyable travail réalisé par ce cascadeur !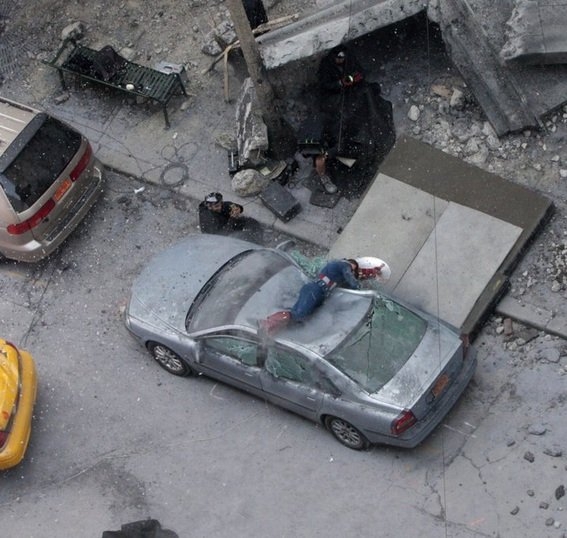 D'autres cascades avec Captain America…