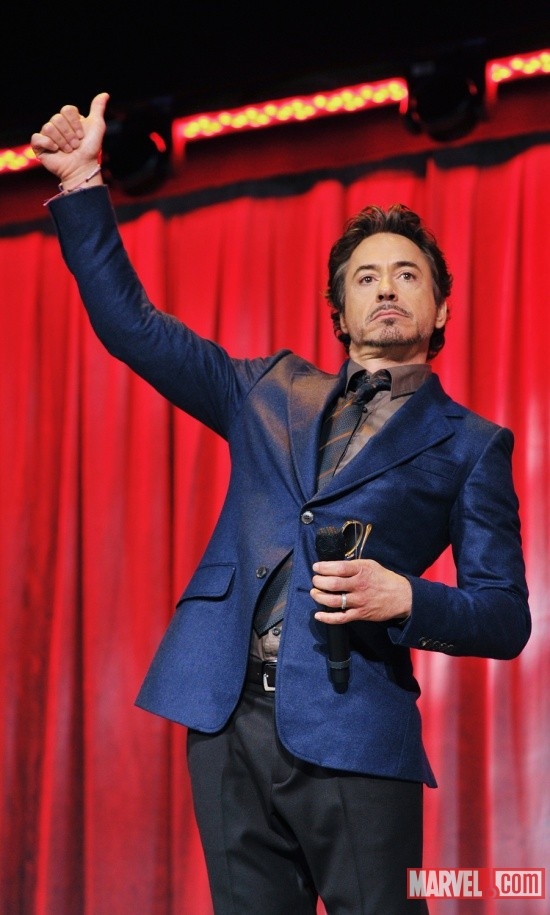 Robert Downey Jr.
est un type énorme : il assure le show comme un pro, il a toujours le mot qui fait mouche, il est talentueux, il attire la gent féminine… Un vrai Tony Stark ! Alors que la convention
Disney
D23 touche à sa fin, un retour en vidéos sur
l'événement
. Dans la première, nous pouvons voir
une partie des acteurs de The Avengers
se réunir sur scène : un moment qui n'est pas sans rappeler le
Comic Con
2010, où toute la petite troupe était présente. En plus, il s'agit de la même musique de présentation ! Dans la seconde vidéo, chacun pourra admirer Chris Hemsworth et
Robert Downey Jr. en interview
(à partir de 0.55 minute). Ce dernier, avec un sens de la formule imparable, déclare à propos de la convention D23 :
It's like Comic Con with better security.
(
C'est comme le Comic Con avec une meilleure sécurité.
) C'est bien tout le problème pour les plus impatients d'entre nous, puisqu'aucune image pirate n'a pu filtrer. Mais à défaut d'avoir le poids des photos,
nous avons le choc des mots, et la réplique « Nous avons un Hulk. » entre directement au panthéon des films Marvel
. Ce que je trouve singulièrement intéressant dans la présentation d'hier, c'est que les réactions positives ne se sont pas concentrées sur le visuel, mais bien sur les personnages et les dialogues mitonnés par Joss Whedon… Gageons que
The Avengers
ne sera pas
uniquement
une tuerie visuelle ! Pour conclure ce petit débriefing, nous pourrions théoriser sur le contrat de Cobie Smulders (l'Agent du SHIELD Maria Hill) :
pourquoi a-t-elle signé pour 5 films ? Une trilogie The Avengers et ?…
Et nous pourrions aussi nous interroger sur le rôle de ce policier pris en flagrant délit de ?… sur le tournage du film à Cleveland….
A vos théories !