Le panel The Aengers du Comic Con de New York débute à l'instant (nuit de samedi à dimanche – minuit trente). Grâce au Live Blog du site SuperheroHype, nous pouvons suivre l'évènement en direct ! Voici les invités présents : Chris Evans (Steve Rogers/Captain America), Mark Ruffalo (Bruce Banner/Hulk), Tom Hiddleston (Loki), Clark Gregg (l'Agent Coulson), Cobie Smulders (l'Agent Maria Hill) et le producteur Kevin Feige. Joss Whedon est indisponible et ce pour une bonne raison : il monte en ce moment même le film !
Un montage de plusieurs minutes a été diffusé :
– Principalement une confrontation entre Bruce Banner et Natasha Romanoff. Le scientifique se cache en Inde. Il ne s'est pas transformé en Hulk depuis deux ans. Le SHIELD a besoin de lui pour étudier le Tesseract (le Cube Cosmique) car il émet des rayons gamma. Nick Fury a donc envoyé l'espionne russe pour le retrouver. La Veuve Noire explique à Banner : « On ne vous a jamais perdu. » Elle lui demande de le suivre calmement, et Banner obtempère. On découvre alors qu'une troupe entière de soldats du SHIELD était prête au cas où.
– Dialogue entre Tony Stark et Loki à la Tour Stark, pendant lequel Tony dresse l'inventaire des héros qui compose l'équipe (un couple d'assassins, un demi-dieu, etc…).
– Bruce Banner et Tony Stark travaillent ensemble dans un laboratoire. Montage rapide présentant les différents personnages.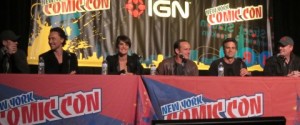 Autres informations :
– Il y aura bien une scène post-générique dans The Avengers.
– Iron Man 3 est le premier film de la phase 2 de l'univers Marvel au cinéma, une nouvelle phase qui devrait mener à The Avengers 2 (aux dernières nouvelles, cette phase s'achèvera en 2017)…
---
Les acteurs en dédicace plus tôt dans la journée :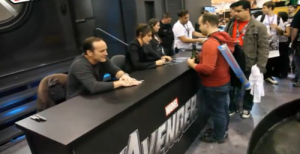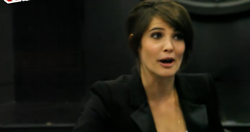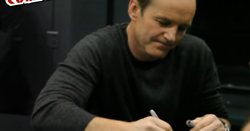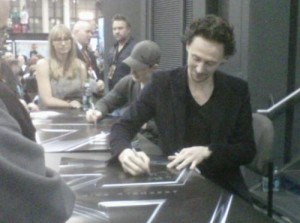 ---
L'intégralité du panel en vidéo (à l'exception du montage des images du film) : Clark Gregg (l'Agent Coulson) pousse la chansonnette avec un hymne sur les Vengeurs qu'il a lui-même inventé ; les fans féminines font exploser l'applaudimètre après chaque parole prononcée par un Tom Hiddleston (Loki) très à l'aise avec le public ; et enfin Kevin Feige évoque les mots magiques de THE AVENGERS 2… Tout y est !