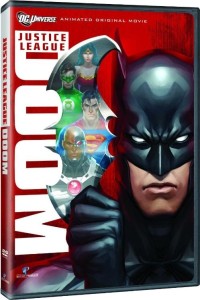 En attendant un hypothétique film live sur la Justice League en 2015/2016 (avant une autre rumeur pour 2016/2017, puis 2017/2018, etc…), voici une présentation de Justice League – Doom, le nouveau long métrage d'animation produit par DC Comics et la Warner. Le film s'inspire d'un arc de la JLA (numéros 43-46) écrit par Mark Waid en 2000 : Tower of Babel. Dans cette histoire, Ra's al Ghul mettait la main sur différents fichiers de Batman, recensant les forces et les faiblesses des membres de la Ligue, des informations collectées au cas où l'un d'entre eux deviendrait une menace… L'intrigue semble avoir été modifiée pour les besoins du film : ici, une Legion of Doom est rassemblée par Vandal Savage pour contrer la Justice League. Chaque héros devra donc faire face à l'un de ses plus emblématiques ennemis : Batman contre Bane ; Superman contre Metallo ; Green Lantern contre Star Sapphire ; Wonder Woman contre Cheetah ; Flash contre le Maître des Miroirs, sans oublier le Gang du Flush Royal.
Le DVD/Blu-Ray sortira le 28 février prochain au Canada, et probablement en 2012 dans nos contrées. Question : quel est le nom de l'extraterrestre qui se trouve à la gauche de Cheetah (j'imagine qu'il s'agit d'un ennemi de Martian Manhunter) ?

Vous aimerez lire aussi...