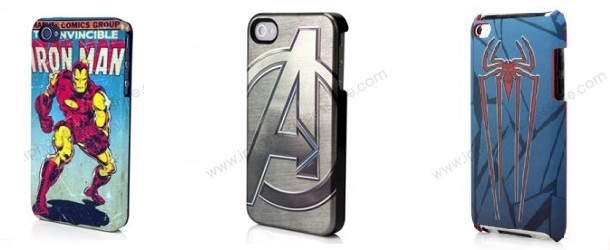 [Ce jeu-concours est désormais terminé et le gagnant a été contacté. Merci à tous pour vos nombreuses participations. Je donne quand même la réponse pour les rares personnes qui ont mal répondu… L'armure portée par Tony Stark à la fin de The Avengers était bien sûr la Mark VII !]
C'est bientôt la rentrée et vous souhaitez mettre une touche super-héroïque dans votre quotidien ? Pour fêter comme il se doit cette nouvelle année scolaire qui commence, Les Toiles Héroïques, en partenariat avec iPhone-accessoire.com, vous proposent un concours de rentrée : à gagner, la coque iPhone 4 Marvel de votre choix (visuels ci-dessous : attention, les deux coques The Amazing Spider-Man – qui peuvent aussi être remportées – sont pour iPod Touch). Pour participer, rien de plus simple :
– il faut résider en France métropolitaine ;
– m'envoyer un mail avec pour objet « Concours Marvel » à l'adresse suivante : lestoilesheroiques@yahoo.fr ;
– dans ce mail, vous indiquerez le modèle de l'armure porté par Tony Stark à la fin de The Avengers. Pas besoin d'avoir vu le film six fois, ce n'est pas très compliqué !
Sachez enfin que ce jeu concours est ouvert du vendredi 31 août minuit au vendredi 7 septembre minuit… Un gagnant sera ensuite tiré au sort. D'ici là, bonne chance à tous !