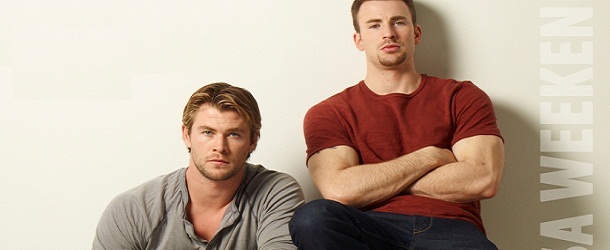 Captain America – First Avengers, The Avengers, et bientôt Captain America – The Winter Soldier : Chris Evans en est déjà à la moitié de son contrat avec Marvel Studios. Dans une longue interview au site Collider, l'interprète de Steve Rogers envisage de reprendre son rôle une quatrième fois, le temps d'un caméo, dans… Thor 2 – The Dark World ! Rien n'est encore fait, mais l'acteur se montre plutôt enthousiaste :
« [Chris] Hemsworth et moi en avons même parlé. J'aimerais faire un petit quelque chose dans Thor 2. C'est de toute évidence difficile de faire fonctionner ça avec l'histoire, la raison étant pourquoi je ne suis pas là pour l'aider, et pourquoi il n'est pas là pour m'aider. Mais la meilleure chose avec Marvel, c'est que, comme je l'ai dit, les films sont si bons et nous passons vraiment un bon moment en les faisant. »
On imagine mal Marvel Studios brûler une de ses trois dernières cartouches pour un petit caméo de quelques secondes. Mais qui sait, Chris Evans semble tellement plein de bonne volonté qu'il acceptera peut-être de prolonger son contrat (ou faire comme si ce caméo ne comptait pas) ? Rappelons que le deal initial prévoyait un engagement de l'acteur pour neuf longs métrages ! Mais avant de parler d'un éventuel caméo, il faudrait déjà trouver une raison scénaristique valable ! Des idées ?
Thor 2 – The Dark World est réalisé par Alan Taylor et sort en France le 6 novembre 2013, avec Chris Hemsworth (Thor), Tom Hiddleston (Loki), Natalie Portman (Jane Foster), Christopher Eccleston (Malekith le Maudit), Jaimie Alexander (Sif), Idris Elba (Heimdall), Anthony Hopkins (Odin), Zachary Levi (Fandral) et Stellan Skarsgård (Dr. Erik Selvig)…