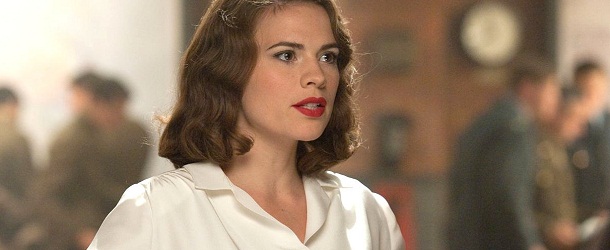 Pas de miracle pour Peggy Carter… L'interprète de la dulcinée de Steve Rogers dans Captain America : First Avenger ne sera pas de retour dans la suite. C'est le site TimeOut qui nous apprend la nouvelle, dans un portrait de l'actrice Hayley Atwell. Cette confirmation nous oblige à dire adieu au « love interest » le plus intéressant de l'Univers Cinématographique Marvel. Vous ne serez peut-être pas d'accord, mais Peggy Carter tranchait positivement après toute une série de personnages féminins transparents (Betty Ross, Jane Foster et, dans une moindre mesure, Pepper Potts).
Espérons malgré tout que Captain America : The Winter Soldier apportera une conclusion satisfaisante à l'idylle entre le Super-Soldat et sa super-copine. Car vous n'êtes pas sans savoir que Joss Whedon avait écrit une « magnifique et poignante » scène se déroulant à notre époque pour The Avengers (une scène coupée du scénario final). La production engagera-t-elle une actrice plus âgée pour reprendre le rôle ? Maquiller Hayley Atwell pour la vieillir de 60 ans aurait-il été une bonne solution ? Nous ne le saurons jamais…
Captain America 2 – The Winter Soldier sort en France le 16 avril 2014 avec Chris Evans (Steve Rogers/Captain America), Sebastian Stan (Bucky Barnes/le Soldat de l'Hiver), Scarlett Johansson (Natasha Romanoff/Black Widow), Anthony Mackie (Sam Wilson/Le Faucon), Frank Grillo (Brock Rumlow/Crossbones), Samuel L. Jackson (Nick Fury) et Cobie Smulders (Maria Hill).