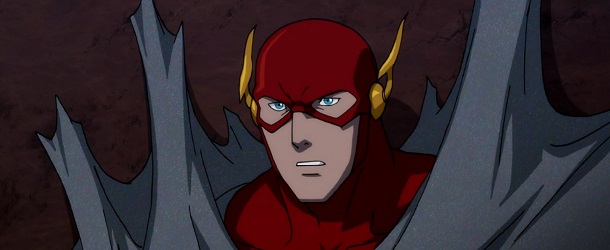 Ce soir au Comic Con, plus de 4 000 fans privilégiés découvriront en avant-première le film d'animation Justice League : The Flashpoint Paradox. Pour le commun des mortels (l'Amérique du Nord), il faudra attendre la sortie du DVD/Blu-ray le 30 juillet. Et pour les mangeurs de grenouilles (c'est-à-dire nous), la date n'est pas encore fixée…
Pour nous faire patienter, Warner Bros. Home Entertainment a révélé un deuxième extrait du long métrage. Flash est en très mauvaise posture. Il vient de se faire entoiler par Spider-Man, Reverse Flash… Rappelons qu'aux dernières nouvelles,  Justice League : The Flashpoint Paradox est l'ultime film d'animation se déroulant dans l'ancienne continuité DC Comics. Après, place à The New 52/DC Renaissance !
Justice League : The Flashpoint Paradox sera disponible à partir du 30 juillet aux Etats-Unis, avec Justin Chambers (Barry Allen/Flah), Kevin McKidd (Thomas Wayne/Batman), Michael B. Jordan (Cyborg), C. Thomas Howell (Thawne/Professeur Zoom), Nathan Fillion (Hal Jordan/Green Lantern), Ron Perlman (Slade et Deathstroke), Sam Daly (Superman), Kevin Conroy (Batman).