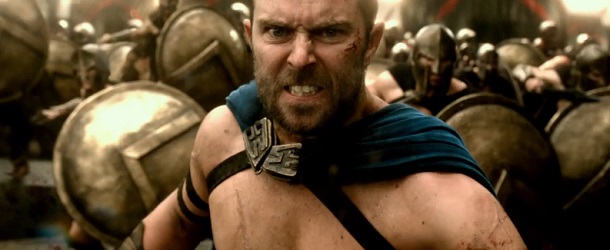 Warner partout, Marvel nulle part ! La guerre des studios dans toute sa splendeur : 24 heures avant la mise en ligne de la bande annonce de The Amazing Spider-Man 2, la Warner occupe le terrain comme jamais, avec la révélation casting de cette fin d'année (Wonder Woman) et… une nouvelle bande annonce complètement dingue de 300 : La naissance d'un empire ! Cela valait le coup d'attendre. Le blockbuster de Noam Murro n'est pas une banale suite direct to DVD du bijou de Zack Snyder : le budget est là et l'ampleur des combats s'annonce à la hauteur de 300, tout simplement !
En l'an 490 avant J.C., les troupes athéniennes doivent contrer les attaques de l'empire Perse. Une grande bataille se prépare. Non loin d'Athènes, à 42 km au nord, Marathon est l'un des derniers remparts protégeant la grande Athènes. Les Perses sont nombreux, beaucoup plus nombreux que les Athéniens, qui vont devoir faire appel aux Spartiates pour les aider.
300 : La naissance d'un empire de Noam Murro sort en France le 5 mars 2014, avec Sullivan Stapleton (Général Thémistocle), Eva Green (Artémisia), Lena Headey (Reine Gorgo), Rodrigo Santoro (Xerxès), Yigal Naor (Darius), Callan Mulvey (Scyllias), Jack O'Connell (Calisto), Callan Mulvey (Scyllias) et Andrew Tiernan (Éphialtès).