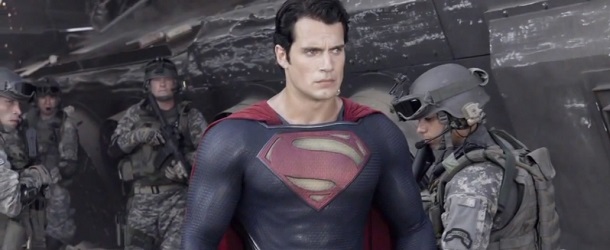 Je ne sais pas vous, mais la bataille de Smallville est ma scène d'action préférée dans Man of Steel. En particulier le combat entre Superman et Faora, qui exploite à fond les capacités méta-humaines des Kryptoniens, que ce soit en terme de vitesse ou de déplacement. C'est là qu'on retrouve le Zack Snyder de 300, de Sucker Punch, un réalisateur qui n'hésite pas à se lâcher complètement dans l'action. Histoire de finir le week-end en beauté, voici donc une très chouette vidéo making of sur la bataille de Smallville. C'est simple, tout est réel, sauf l'armure du Général Zod ! Pour accéder à la vidéo, cliquez sur 'Watch on Vimeo'.
Un petit garçon découvre qu'il possède des pouvoirs surnaturels et qu'il n'est pas né sur la Terre. Plus tard, il s'engage dans un périple afin de comprendre d'où il vient et pourquoi il a été envoyé sur notre planète. Mais il devra devenir un héros s'il veut sauver le monde de la destruction totale et incarner l'espoir pour toute l'humanité…
Man of Steel est sorti en France le 19 juin 2013, avec au casting Henry Cavill (Clark Kent/Superman), Amy Adams (Lois Lane), Diane Lane (Martha Kent), Kevin Costner (Jonathan Kent), Laurence Fishburne (Perry White), Michael Shannon (Général Zod), Russell Crowe (Jor-El), Ayelet Zurer (Lara), Antje Traue (Faora), Harry Lennix (Général Swanwick) et Christopher Meloni (Colonel Hardy).