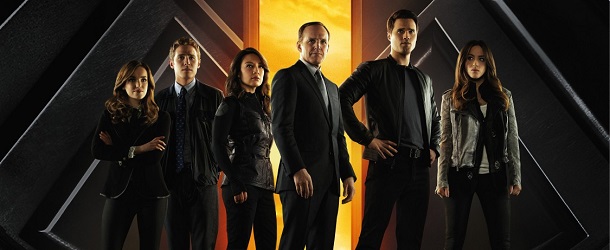 Snif… La saison 1 d'Agents of S.H.I.E.L.D. sort aujourd'hui en DVD/Blu-ray aux États-Unis. Pendent ce temps, M6 n'a toujours pas communiqué la date de diffusion française. Pour célébrer la sortie du coffret, voici quatre vidéos bonus : deux featurettes (Jaimie Alexander retrouve le rôle de Sif + les cascades de Skye) et deux scènes coupées. Ah, si tous les épisodes de la saison 2 pouvaient être aussi connectés à l'Univers Cinématographique Marvel que l'épisode 'Yes Men'…
Agents of S.H.I.E.L.D. – Saison 1 – Episode 15 – 'Yes Men' : Quand Coulson et son équipe sont attaqués par Lorelei – une séductrice mortelle qui s'est échappée d'Asgard – la Lady Sif de Thor, son ennemie de longue date, intervient pour essayer de les sauver.
La série Agents of S.H.I.E.L.D. est diffusée chaque mardi sur ABC (et prochainement sur M6), avec Clark Gregg (Agent Phil Coulson), Ming-Na Wen (Agent Melinda May), Brett Dalton (Grant Ward), Chloe Bennet (Skye), Iain De Caestecker (Agent Leo Fitz) et Elizabeth Henstridge (Agent Jemma Simmons).