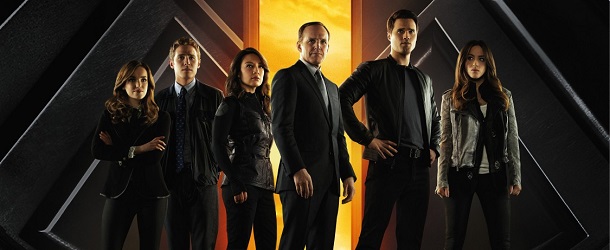 Le Directeur Coulson entrera en fonction dans deux semaines (mardi 23 septembre) ! Voici donc le synopsis de 'Shadows', le premier épisode de la saison 2 d'Agents of S.H.I.E.L.D. : « Coulson et son équipe sont maintenant des fugitifs disposant de ressources limitées – mais cela ne les empêche pas de protéger le monde de menaces puissantes et invisibles. Cependant, avec les nouveaux membres qu'ils connaissent à peine, le S.H.I.E.L.D. pourra-t-il être de nouveau digne de confiance ? »
Du côté des acteurs principaux, on retrouve bien sûr Clark Gregg (Agent Phil Coulson), Ming-Na Wen (Agent Melinda May), Brett Dalton (Grant Ward), Chloe Bennet (Skye), Iain De Caestecker (Agent Leo Fitz) et Elizabeth Henstridge (Agent Jemma Simmons). Et avant de vous proposer la liste des acteurs invités, précisons que Nick Blood (Agent Lance Hunter) est à la fois cité dans le 'main cast' et dans les 'guests'. A suivre…
B.J. Britt (Agent Antoine Triplett), Adrian Pasdar (Brigadier Général Glenn Talbot), Henry Simmons (Alphonso « Mack » Mackenzie), Patton Oswalt (Agent Billy Koenig), Lucy Lawless (Isabelle « Izzy » Hartley), Wilmer Calderon (Idaho), Reed Diamond (Daniel Whitehall), Hayley Atwell (Peggy Carter), Brian Patrick Wade (Carl Creel), Matthew Glave (Roger Browning), Simon Kassianides (Sunil Bakshi), George Stephanopoulos (lui-même), Raquel Gardner (Carla Talbot), Ben Turner Nixon (agent de l'HYDRA), Franco Vega (chef militaire), Rich Ceraulo (soldat #1) et JB Tadena (soldat Tilden).
Vous avez bien lu, Hayley Atwell est de retour pour incarner Peggy Carter, quatre mois avant le lancement de la série Agent Carter ! Avec six apparitions – longs métrages, séries, court métrage -, Peggy Carter est en passe de détrôner Nick Fury dans la catégorie 'Personnage de l'Univers Cinématographique Marvel le plus présent' (huit apparitions). Doit-on déduire que l'intrigue de la saison 2 d'Agents of S.H.I.E.L.D. sera liée à celle d'Agent Carter ? A vos théories !
La série Agents of S.H.I.E.L.D. est diffusée chaque mardi sur ABC (et prochainement sur M6), avec Clark Gregg (Agent Phil Coulson), Ming-Na Wen (Agent Melinda May), Brett Dalton (Grant Ward), Chloe Bennet (Skye), Iain De Caestecker (Agent Leo Fitz) et Elizabeth Henstridge (Agent Jemma Simmons).