Ces deux superbes illustrations de Reverse Flash, signées John Gallagher, méritaient à elles seules un article… Mais il y a mieux ! Interrogé par Entertainment Weekly, Grant Gustin a fait son Stephen Amell en teasant méchamment une révélation sur le pire ennemi de The Flash : « Il y a un twist qui m'a même surpris. J'ai vu toutes les théories sur internet. Personne n'a prédit le gros twist qui arrive à la fin de cette saison. »
Intrigant… Jusqu'à présent, tous les indices récoltés sur l'identité de Reverse Flash pointent vers [Harrison Wells]. Mais pour certains, cette piste est beaucoup trop simple. L'interprète de Barry Allen vient peut-être de nous révéler qu'il faut creuser plus loin ! Après tout, nous parlons de The Flash, une série qui abordera bientôt le thème [du voyage dans le temps] (épisode 15). Donc tout est possible !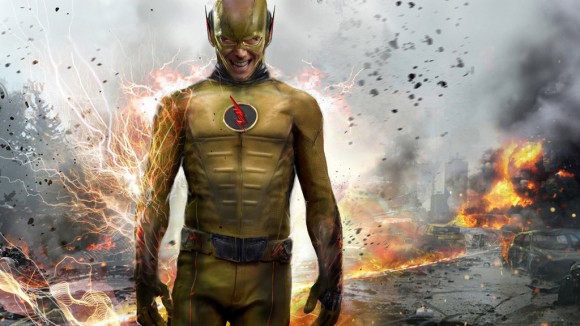 La série The Flash est diffusée chaque mardi sur la chaîne The CW (et prochainement sur TF1), avec Grant Gustin (Barry Allen/The Flash), Candice Patton (Iris West), Rick Cosnett (Eddie Thawne), Danielle Panabaker (Caitlin Snow), Carlos Valdes (Cisco Ramon), Tom Cavanagh (Harrison Wells) et Jesse L. Martin (Inspecteur West).