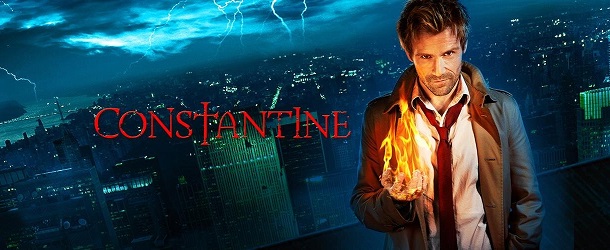 Jeudi, NBC a renouvelé cinq séries… Constantine n'en fait bien sûr pas partie. Faute de réponse officielle et définitive, il faut se contenter de rumeurs (et si le show déménageait sur Syfy, la petite sœur de NBC ?) et du fait que le prochain épisode est encore décrit comme le 'season finale' (et non comme le 'series finale'). Présentement, John s'intéresse une ultime fois à la mythologie angélique. En se tournant vers le Ciel, Constantine nous propose une avant-dernière belle histoire… Avez-vous apprécié cet épisode ?
Constantine – Saison 1 – Episode 12 – 'Angels and Ministers of Grace' – Synopsis et extraits : Quand John se rend dans un hôpital pour enquêter sur une mystérieuse attaque, il recrute Manny contre son gré pour l'aider. Pendant ce temps, Zed est victime d'un problème de santé qui remet en question la source de ses visions.
——————————————–
Constantine – Saison 1 – Episode 13 – 'Waiting for the Man' – Preview : John et Zed sont de retour à la Nouvelle-Orléans quand l'Inspecteur Jim Corrigan leur demande de l'aide dans une affaire impliquant la disparition d'une jeune fille. De son côté, Papa Midnite prend des mesures radicales pour se venger de John. Pendant ce temps, la vérité sur la Montée des Ténèbres éclate au grand jour.
La série Constantine est diffusée chaque vendredi sur la chaîne NBC, avec Matt Ryan (John Constantine), Angelica Celaya (Zed Martin), Charles Halford (Chas), Harold Perrineau (Manny), Michael James Shaw (Papa Midnite) et Emmett J. Scanlan (Jim Corrigan).