The Art of Evolution, semaine 3 (via Entertainment Weekly). L'affiche du prochain épisode d'Agents of S.H.I.E.L.D. est signée Declan Shavley (Moon Knight, Thunderbolts) et Jordie Bellaire (Hawkeye, Magneto). Nous retrouvons le père de l'année, Calvin Zabo, qui cherche à se venger du Directeur Coulson. Un sacré psychopathe interprété avec brio par Kyle MacLachlan. PS : le dernier épisode d'Agents of S.H.I.E.L.D. était littéralement la préquelle du film Inhumans. Certains ne savent pas ce qu'ils ratent…
Agents of S.H.I.E.L.D. – Saison 2 – Episode 13 – 'One of Us' : Cal cherche à se venger de Coulson en assemblant une équipe de super-vilains afin de détruire le S.H.I.E.L.D. Pendant ce temps, May appelle le réputé Dr Andrew Garner, son charismatique ex-mari, après une crise qui menace de déchirer l'équipe.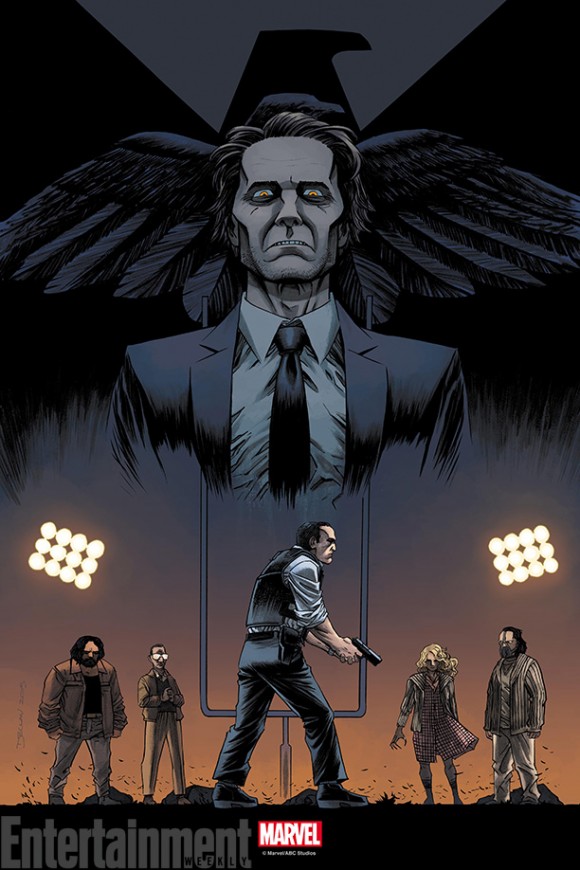 De gauche à droite : Ric Sarabia est Wendell Levi (un illustre inconnu), Geo Corvera est Francis Noche (idem), Kyle Maclachlan est le Docteur/Cal (alias Mister Hyde), Drea De Matteo est Karla Faye Gideon (une femme qui a croisé la route de Daredevil et… c'est tout), Jeff Daniel Phillips est Bane, David A. Angar (alias Angar le Cri).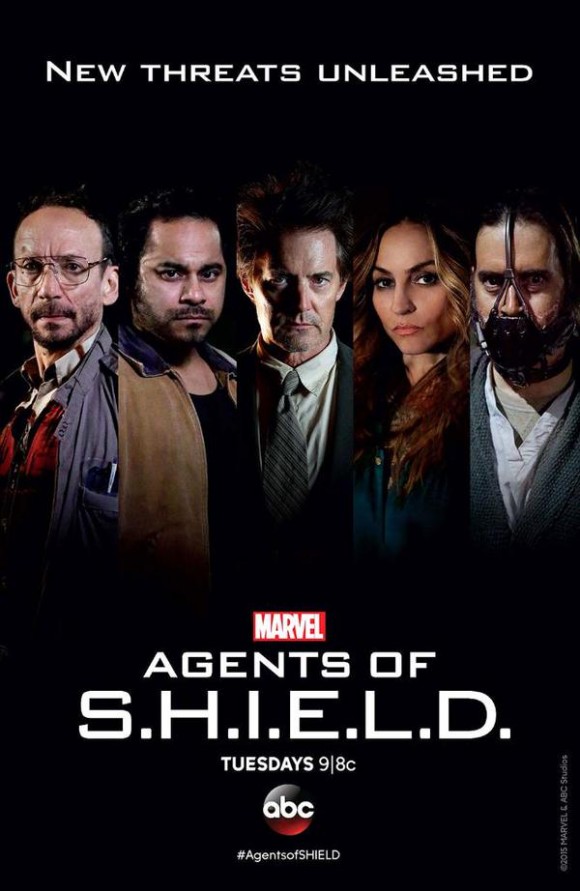 La série Agents of S.H.I.E.L.D. est diffusée chaque mardi sur ABC (et prochainement sur W9), avec Clark Gregg (Directeur Phil Coulson), Ming-Na Wen (Agent Melinda May), Brett Dalton (Grant Ward), Chloe Bennet (Agent Skye), Iain De Caestecker (Agent Leo Fitz), Elizabeth Henstridge (Agent Jemma Simmons), Nick Blood (Lance Hunter) et Adrianne Palicki (Bobbi Morse).