The Art of Evolution, semaine 8 (via Entertainment Weekly) ! Sur le poster du prochain épisode, toutes les intrigues de la série se rejoignent, grâce au talent de Nathan Fox (Harley Quinn). Mais avant, place aux chiffres de Marvel : Les Agents du S.H.I.E.L.D. La série fait preuve d'une remarquable stabilité sur W9 (et la diffusion du pilote après Avengers, mardi prochain sur M6, ne pourra qu'amplifier ce phénomène) :
959 000 pour 'Les arcanes du souvenir', 3.7% (vs. 972 000, 3.7%) ;
1.10 million pour Les mauvais génies', 4.4% (vs. 943 000, 3.8%) ;
140 000 à 649 000 pour les rediffusions, jusqu'à 4.5% (vs. 218 000 à 538 000, jusqu'à 4.4%).
La série repasse donc au-dessus de la barre du million de fidèles et… W9 retrouve la première place des audiences TNT !
—————————————————-
Agents of S.H.I.E.L.D. – Saison 2 – Episode 18 – 'The Frenemy of My Enemy' : Une nouvelle alliance dangereuse se forme quand Coulson et Hunter se tournent vers la dernière personne à laquelle on s'attendrait – Grant Ward ! Tandis que la guerre entre les factions du S.H.I.E.L.D. se poursuit, Skye et Lincoln finissent par se retrouver entraînés dans ce conflit.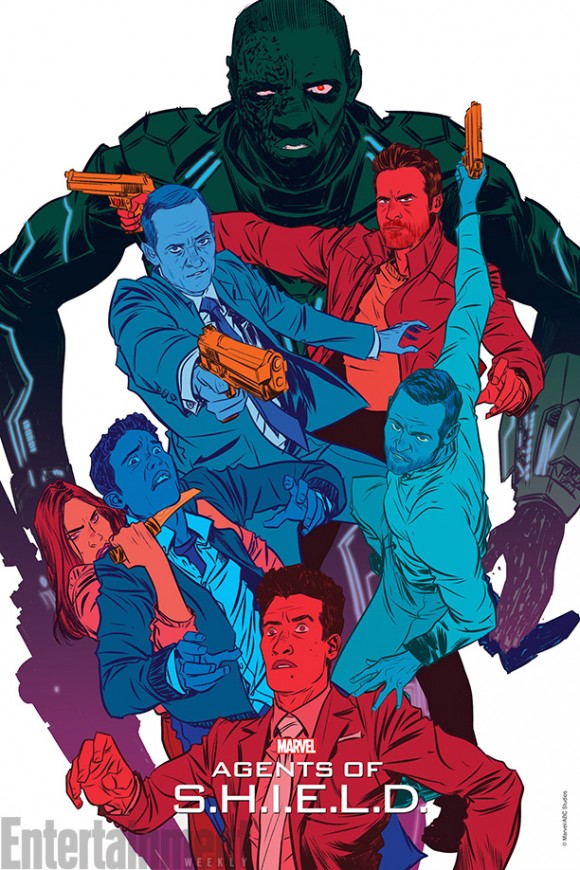 —————————————————-
En début de semaine, Jimmy Kimmel recevait le casting d'Avengers : L'Ère d'Ultron. Il en était question ICI. Pour ceux qui n'ont pas regardé l'émission en intégralité, coup de projecteur sur cette vidéo… Clark 'Coulson' Gregg s'adresse aux Avengers !
La série Agents of S.H.I.E.L.D. est diffusée chaque mardi sur ABC (et le mercredi sur W9), avec Clark Gregg (Directeur Phil Coulson), Ming-Na Wen (Agent Melinda May), Brett Dalton (Grant Ward), Chloe Bennet (Agent Skye), Iain De Caestecker (Agent Leo Fitz), Elizabeth Henstridge (Agent Jemma Simmons), Nick Blood (Lance Hunter) et Adrianne Palicki (Bobbi Morse).