Dernier zapping Avengers : L'Ère d'Ultron avant la mise en ligne de la critique ! Au programme : une poignée d'extraits ; une magnifique illustration signée Ryan Meinerding ; un module sur la dynamique de groupe chez les Avengers ; la liste des morceaux de la bande originale (sortie digitale le 28 avril, sortie physique le 19 mai) ; et de chouettes spots TV (War Machine !)… Signalons enfin une soirée Avengers en présence des voix françaises du film au théâtre de l'Alliance française (mardi 21 avril, 21 heures). C'est à Paris, c'est gratuit, mais il faut réserver !
Alors que Tony Stark tente de relancer un programme de maintien de la paix jusque-là suspendu, les choses tournent mal et les super-héros Iron Man, Captain America, Thor, Hulk, Black Widow et Hawkeye vont devoir à nouveau unir leurs forces pour combattre le plus puissant de leurs adversaires : le terrible Ultron, un être technologique terrifiant qui s'est juré d'éradiquer l'espèce humaine. Afin d'empêcher celui-ci d'accomplir ses sombres desseins, des alliances inattendues se scellent, les entraînant dans une incroyable aventure et une haletante course contre le temps…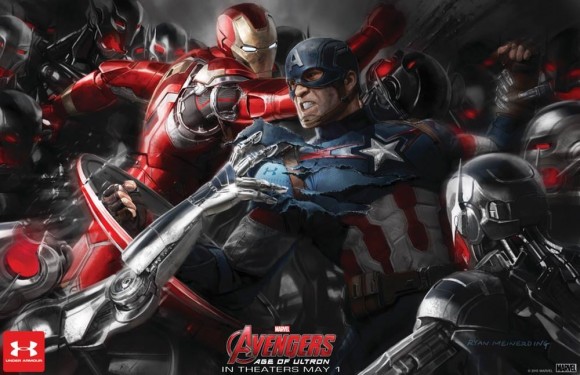 [ATTENTION SPOILERS – ATTENTION SPOILERS – ATTENTION SPOILERS]
1. "Avengers: Age of Ultron Title" Brian Tyler
2. "Heroes" * Danny Elfman
3. "Rise Together" Brian Tyler
4. "Breaking and Entering" Brian Tyler
5. "It Begins" Danny Elfman
6. "Birth of Ultron" Brian Tyler
7. "Ultron-Twins" Danny Elfman
8. "Hulkbuster" Brian Tyler
9. "Can You Stop This Thing?" Danny Elfman
10. "Sacrifice" Brian Tyler
11. "Farmhouse" Danny Elfman
12. "The Vault" Brian Tyler
13. "The Mission" Brian Tyler
14. "Seoul Searching" Brian Tyler
15. "Inevitability-One Good Eye" * Danny Elfman
16. "Ultron Wakes" Danny Elfman
17. "Vision" Brian Tyler
18. "The Battle" Brian Tyler
19. "Wish You Were Here" Brian Tyler
20. "The Farm" Danny Elfman
21. "Darkest of Intentions" Brian Tyler
22. "Fighting Back" Brian Tyler
23. "Avengers Unite" Danny Elfman
24. "Keys to the Past" Brian Tyler
25. "Uprising" Brian Tyler
26. "Outlook" Brian Tyler
27. "The Last One" Brian Tyler
28. "Nothing Lasts Forever" Danny Elfman
29. "New Avengers-Avengers: Age of Ultron" Danny Elfman
[ATTENTION SPOILERS – ATTENTION SPOILERS – ATTENTION SPOILERS]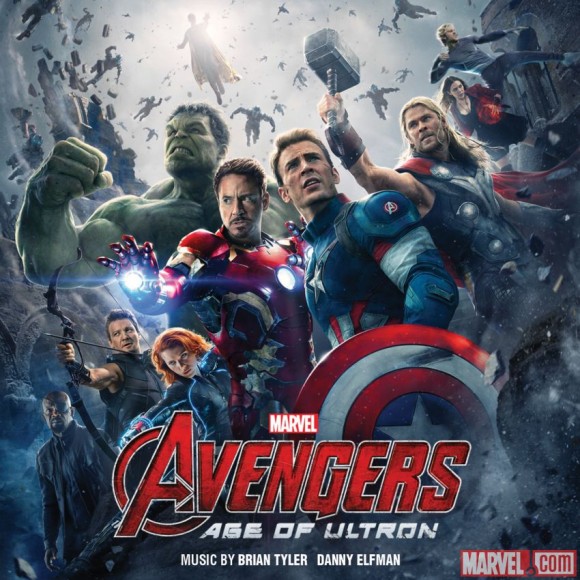 Avengers : L'Ère d'Ultron est réalisé par Joss Whedon et sort en France le 22 avril 2015, avec Robert Downey Jr. (Tony Stark/Iron Man), Chris Evans (Steve Rogers/Captain America), Chris Hemsworth (Thor), Mark Ruffalo (Bruce Banner/Hulk), Scarlett Johansson (Natasha Romanoff/Black Widow), Jeremy Renner (Clint Barton/Hawkeye), Elizabeth Olsen (Wanda Maximoff/Scarlet Witch), Aaron Taylor-Johnson (Pietro Maximoff/Quicksilver), Cobie Smulders (Maria Hill) et James Spader (Ultron).