Après avoir ressuscité Young Justice, Warner Bros. Animation redonne vie aux Teen Titans (via io9) ! Diffusée de 2003 à 2006, Teen Titans : Les Jeunes Titans a connu cinq saisons avant d'être annulée au profit de… Teen Titans GO! Le traumatisme est encore vif chez certains, au point que Teen Titans GO! se moque ouvertement d'être mal aimée. Pour preuve, le teaser de Teen Titans GO! vs. Teen Titans, qui verra donc les deux versions de la super-équipe s'affronter en 2019. Ce teaser, présent dans les bonus du DVD/Blu-ray de Teen Titans GO! to the Movies, complète la scène post-générique dudit film, une scène dans laquelle les Teen Titans transmettent un message annonçant qu'ils ont trouvé un moyen de revenir… Au cinéma ? A la télévision ? En vidéo ? Ce n'est pas encore très clair. Mais sachant que Teen Titans GO! to the Movies a récolté 51.8 millions de dollars dans le monde (budget : 10 millions), la première hypothèse n'est peut-être pas à exclure…
Il semble que tous les super-héros importants jouent dans leurs propres films – tout le monde, sauf les Teen Titans ! De facto chef de l'équipe, Robin décide de remédier à la situation, afin d'être considéré comme une star et non un acolyte. Si seulement le réalisateur hollywoodien le plus en vue pouvait les remarquer. Avec quelques idées folles et une chanson dans leur coeur, les Teen Titans se rendent à Tinsel Town, certains de réaliser leur rêve. Mais quand le groupe est radicalement mal orienté par un super-vilain trop sérieux et son plan de maniaque pour prendre le contrôle de la Terre, les choses tournent mal. L'amitié et l'esprit combatif de l'équipe défaillent, mettant en péril le sort des Teen Titans eux-mêmes !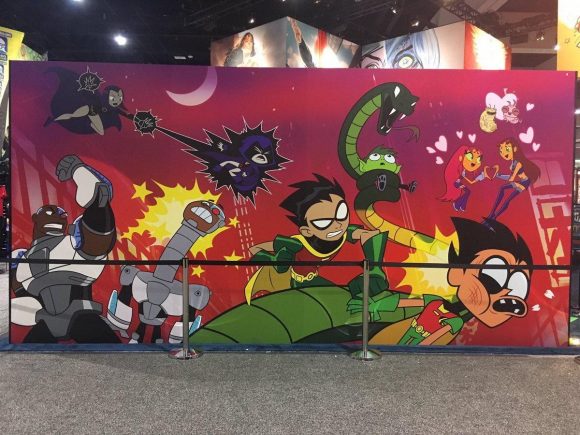 Teen Titans GO! to the Movies d'Aaron Horvath et Peter Rida Michail est sorti aux Etats-Unis le 27 juillet 2018, avec Greg Cipes (Beast Boy), Scott Menville (Robin), Khary Payton (Cyborg), Tara Strong (Raven), Hynden Walch (Starfire), Will Arnett (Slade Wilson/Deathstroke) et Kristen Bell (Jade Wilson).