C'est comme si les scénaristes étaient au pied du mur. Khalil ou Tobias ? Il ne peut en rester qu'un (ou pas). Situation inextricable gérée avec de… grosses ficelles. La police de Freeland est corrompue jusqu'à la moelle, mais Black Lightning n'envisage même pas un seul instant de suivre le (magnifique) convoi. Gambi possède des données sur les appels de Khalil, donc la planque de Tobias, mais ce dernier n'est pas inquiété un seul instant. On imagine que tout cela doit servir de catalyseur pour Jennifer, afin qu'elle devienne Lightning. Soit. Mais ce qui arrive à notre Roméo était vraiment douloureux à voir. Et au final, qu'est-ce qui l'empêche de témoigner maintenant ?
Black Lightning – Saison 2 – Episode 10 – 'The Book of Rebellion : Chapter Three : Angelitos Negros' : Toujours en fuite, Jennifer et Khalil succombent à leurs sentiments l'un pour l'autre et commencent à planifier leur avenir ensemble. Pendant ce temps, Jefferson approche Henderson avec une faveur.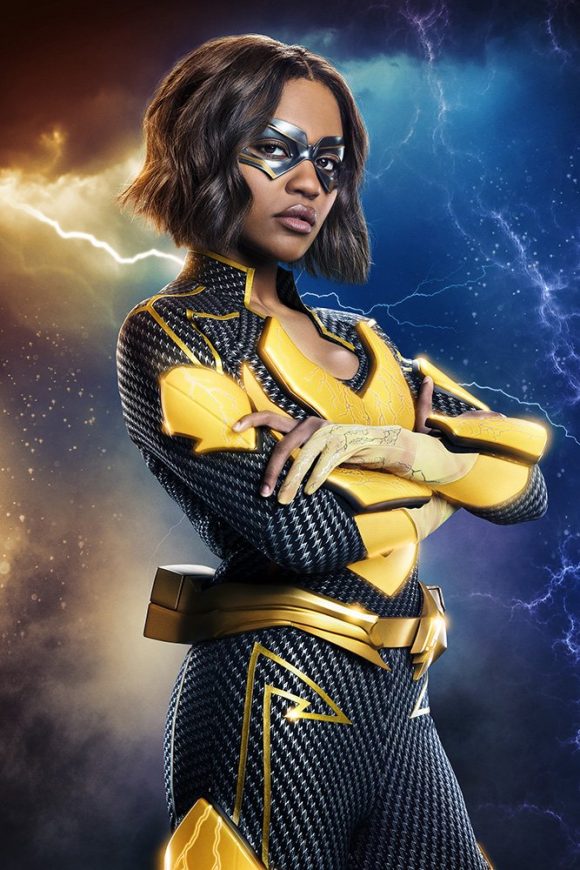 ————————————————–
Audience US : Jefferson Pierce déménage donc du mardi au lundi et… Hier soir, l'épisode 'The Book of Rebellion : Chapter Three : Angelitos Negros' a séduit 0.86 million de téléspectateurs (contre 1.13 million avant les vacances). C'est la plus mauvaise audience de l'histoire de la série (ancien record : 0.90 million). Sur la cible des 18-49 ans, le show doit se contenter d'un taux de 0.3% (en baisse de 0.1 point) [chiffres définitifs].
————————————————–
Black Lightning – Saison 2 – Episode 11 – 'The Book of Secrets : Chapter One : Prodigal Son' : Jefferson soupçonne Tobias d'être à l'origine d'une récente attaque malveillante. Il rapporte la nouvelle à Henderson mais n'obtient pas la réponse qu'il cherchait. Pendant ce temps, Lynn est confrontée à son passé.
La série Black Lightning est diffusée chaque mardi sur la chaîne The CW, avec Cress Williams (Jefferson Pierce/Black Lightning), Christine Adams (Lynn Pierce), Nafessa Williams (Anissa Pierce/Thunder), China Anne McClain (Jennifer Pierce/Lightning), James Remar (Peter Gambi), Damon Gupton (Inspecteur William Henderson) et Marvin 'Krondon' Jones III (Tobias Whale).