Cette semaine dans Agents of S.H.I.E.L.D. of the Galaxy… Un épisode réalisé par l'irremplaçable Kevin Tancharoen (Iron Fist, Inhumans, Arrow, The Flash, Supergirl, Legends of Tomorrow) ! Nos respects à Melinda May, plus badass que jamais. Cela fait tellement bizarre de voir un méchant avec la tête de Coulson ! Gros crush sur Snowflake (Dark Layla 'Butterfly' Miller, est-ce toi ?). Toute cette histoire de mondes détruits et de papillons est fichtrement mystérieuse et intéressante. En revanche, la sous-intrigue sur Fitz, le Spartacus de l'espace… Cela rappelle les couloirs sombres de la saison 5 et ce n'est pas un compliment ! PS : ne manquez pas le focus sur les effets visuels du season premiere, ça vaut le coup d'œil.
Agents of S.H.I.E.L.D. – Saison 6 – Episode 2 – 'Window of Opportunity' : Alors que Fitz et Enoch luttent dans l'espace, Sarge et son équipe avancent dans leur mystérieuse mission sur Terre.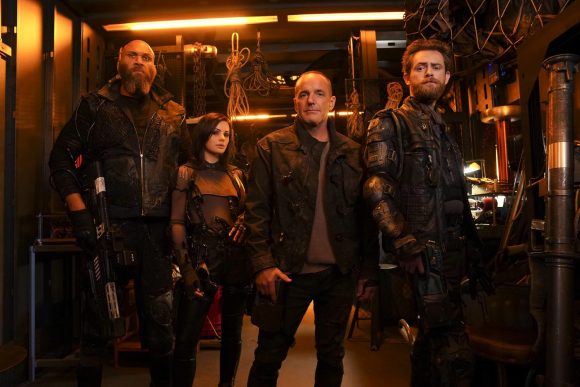 ————————————————–
Audience US : Et c'est presque… stable ! Hier soir, l'épisode 'Window of Opportunity' a été suivi par 2.18 millions de téléspectateurs (contre 2.31 millions la semaine dernière). Soit un score qui reste supérieur à tous les épisodes de la seconde partie de la saison 5. Sur la cible des 18-49 ans, la Team S.H.I.E.L.D. termine la soirée avec un taux de 0.4% (inchangé) [chiffres définitifs].
————————————————–
Agents of S.H.I.E.L.D. – Saison 6 – Episode 3 – 'Fear and Loathing on the Planet of Kitson' : C'est une soirée folle qui attend les agents sur la planète Kitson. Tandis que Fitz et Enoch tentent leur chance au casino, Daisy et Simmons se retrouvent dans une situation… encore plus étonnante.
La série Agents of S.H.I.E.L.D. est diffusée chaque vendredi sur la chaîne ABC, avec Clark Gregg (Sarge), Ming-Na Wen (Agent Melinda May), Chloe Bennet (Agent Daisy Johnson/Quake), Iain De Caestecker (Agent Leo Fitz), Elizabeth Henstridge (Agent Jemma Simmons), Henry Simmons (Directeur Alphonso 'Mack' Mackenzie) et Natalia Cordova-Buckley (Agent Elena 'Yo-Yo' Rodriguez).