Deux ajouts intéressants au casting de la saison 5 de Supergirl ! Cara Buono (Stranger Things, Hulk) a été choisie pour incarner « Gamemnae, une ancienne extraterrestre qui, avec d'autres de son espèce, a préservé la Terre de la folie de l'humanité à travers les âges. L'objectif de Gamemnae est d'utiliser la technologie pour asservir les humains. Gamemnae est rusée, spirituelle, impitoyable et a toujours dix longueurs d'avance sur ses adversaires. Le plan de Gamemnae la met en conflit avec ses alliés potentiels et sur une trajectoire de collision avec Supergirl. »
Mitch Pileggi, qui n'est autre que Walter Skinner dans X-Files, jouera quant à lui « Rama Khan, un ancien extraterrestre qui est capable de contrôler les quatre anciens éléments – le feu, l'eau, la terre et l'air. Arrogant et volontaire, Rama Khan a été chargé d'utiliser ses pouvoirs pour protéger la Terre de l'Humanité depuis des millions d'années, mais maintenant, son plan l'oppose à Supergirl, ainsi qu'à Lena Luthor. » Dans les deux cas, il s'agit de rôles récurrents. Et dans les deux cas, nous avons affaire à deux créations relativement récentes : la Ligue des Anciens – un groupe de méta-humains basé à Atlantis – a été créée en 2002 dans les pages de la série JLA !
'Supergirl': Mitch Pileggi And Cara Buono Join Season 4 Cast https://t.co/FVyol6YR10 pic.twitter.com/w5mycQYmEA

— Deadline Hollywood (@DEADLINE) September 19, 2019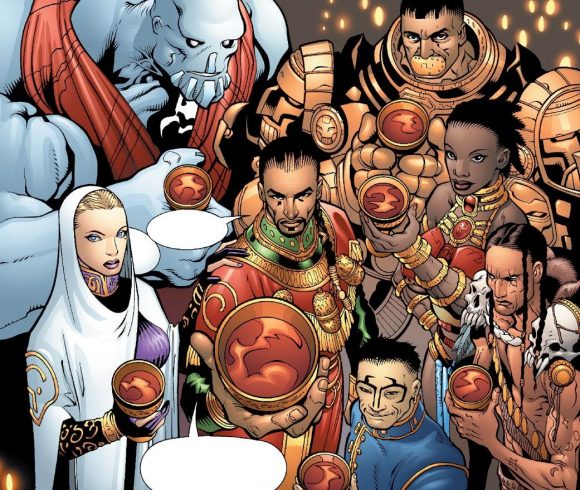 La série Supergirl revient le 6 octobre 2019 sur la chaîne The CW, avec Melissa Benoist (Kara Danvers/Supergirl), Chyler Leigh (Alex Danvers), Mehcad Brooks (James Olsen/Guardian), David Harewood (J'onn J'onzz/Martian Manhunter), Jesse Rath (Querl 'Brainy' Dox/Brainiac 5), Nicole Maines (Nia Nal/Dreamer) et Katie McGrath (Lena Luthor).