« Il y a d'autres façons de sauver des vies… » – Christine Palmer
Cela ne va pas changer la face du multivers, mais c'est toujours bon à prendre… Rachel McAdams reprendra le rôle de la chirurgienne Christine Palmer dans Spider-Man 3, Doctor Strange in the Multiverse of Madness ! On se souvient qu'elle avait été annoncée absente à l'époque du recrutement de Sam Raimi… ce qui veut peut-être dire que son personnage a été réintégré au casting suite à une réécriture du scénario. En effet, on imagine mal Stephen Strange sans un point d'ancrage 'humain' entre deux voyages interdimensionnels ! Auriez-vous regretté son absence, sachant que l'abandon des love interests en cours de route est presque une tradition dans l'Univers Cinématographique Marvel ?
EXCLU: After doubts that she would return, Rachel McAdams Is set to reprise her role in next DOCTOR STRANGE movie https://t.co/SbICYT47xr

— Justin Kroll (@krolljvar) December 10, 2020
﹡﹡﹡﹡﹡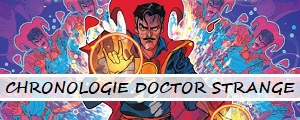 ﹡﹡﹡﹡﹡
Doctor Strange in the Multiverse of Madness est réalisé par Sam Raimi et sort aux Etats-Unis le 25 mars 2022, avec Benedict Cumberbatch (Stephen Strange/Doctor Strange), Benedict Wong (Wong), Chiwetel Ejiofor (Karl Mordo), Elizabeth Olsen (Wanda Maximoff/Scarlet Witch) et Xochitl Gomez.