Troisième étape de la tournée-crossover de David Ramsey dans l'Arrowverse… Honnêtement, je ne vois pas où les scénaristes veulent en venir avec John Diggle/Green Lantern. Sachant que la série HBO est en développement, un second show sur les Chevaliers d'Emeraude paraît inenvisageable. Alors, que reste-t-il ? Lui offrir une place dans Legends of Tomorrow ? Un team-up durable avec Superman ? Le garder en réserve pour les crossovers annuels ? Pour ce qui est de The Flash à proprement parler, la Godspeed War est ambitieuse sur le papier (« Je ne me suis jamais senti aussi impuissant. ») ; mais à l'écran, on ne ressent pas un seul instant l'ampleur de la menace. Faute d'un budget conséquent et d'une qualité d'écriture suffisante, la tension est aux abonnés absents, notamment à cause des innombrables intrigues secondaires qui viennent parasiter le récit (R.I.P. Ultraviolet, tout ça pour ça). On croise les doigts pour que le prochain épisode, le 150e de la série, soit à la hauteur de l'événement ! Meilleure réplique : « Des nanites, de la part de Ray Palmer. » Un grand classique !
The Flash – Saison 7- Episode 16 – 'P.O.W.' : John Diggle arrive à Central City avec une arme qui pourrait aider Barry à arrêter la Godspeed War. Pendant ce temps, le nouveau lien entre Allegra et Ultraviolet est mis à l'épreuve, tandis que Joe et Kristin Kramer sont pourchassés par un ancien collègue à elle.
————————————————–
Audience US (chiffres définitifs) : A défaut s'élever, The Flash fait mieux qu'en milieu de saison… Hier soir, l'épisode 'P.O.W.' a été suivi par 0.77 million de téléspectateurs (contre 0.77 million la semaine dernière). Un résultat typiquement dans la moyenne. Sur la cible des 18-49 ans, le show s'accroche toujours à un taux de 0.2% (inchangé).
————————————————–
The Flash – Saison 7- Episode 17 – 'Heart of the Matter, Part 1' : Barry et Iris accueillent leurs futurs enfants, XS et Bart, jusqu'au moment où un secret choquant menace leur nouvelle harmonie familiale. Pendant ce temps, la Godspeed War s'intensifie et menace de détruire Central City.
﹡﹡﹡﹡﹡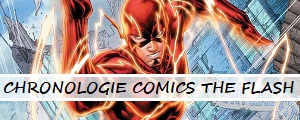 ﹡﹡﹡﹡﹡
La série The Flash est diffusée chaque mardi sur la chaîne The CW, avec Grant Gustin (Barry Allen/The Flash), Candice Patton (Iris West-Allen), Carlos Valdes (Cisco Ramon/Vibe), Danielle Panabaker (Caitlin Snow/Killer Frost), Jesse L. Martin (Joe West), Danielle Nicolet (Cecile Horton), Tom Cavanagh (Nash Wells), Kayla Compton (Allegra Garcia) et Brandon McKnight (Chester P. Runk).