Toutes les divinités ne sont pas forcément là pour aider l'humanité… Entre deux Wonder Woman, la sphère mythologique de l'univers DC Comics va sérieusement s'étendre grâce à Shazam : Fury of the Gods ! Dans la vidéo dévoilée par Zachary Levi, nous retrouvons le traditionnel mélange d'images de tournage, de concept arts et d'interviews qui va de pair avec les projets à la sortie lointaine. Mais ce qu'il y a d'unique, c'est Helen Mirren en super-vilaine. Bref, cela promet, et c'est sans compter les nombreuses créatures mythologiques qui feront d'excellentes cibles d'entrainement à Shazam avant sa rencontre avec Black Adam…
[Présentation du personnage] Nous avons tous un super-héros en nous, il faut juste un peu de magie pour le faire ressortir. Dans le cas de Billy Batson, en criant un mot – SHAZAM ! -, ce garçon des rues adopté de 14 ans peut devenir le super-héros adulte Shazam, avec l'aimable autorisation d'un ancien sorcier. Encore un enfant au coeur – à l'intérieur d'un corps musclé et divin – Shazam se réjouit de cette version adulte de lui-même en faisant ce que n'importe quel adolescent ferait avec des super-pouvoirs : s'amuser avec ! Peut-il voler ? A-t-il une vision à rayon X ? Peut-il tirer des éclairs avec ses mains ? Peut-il sécher ses contrôles de sciences humaines ? Shazam entreprend de tester les limites de ses capacités avec l'insouciance joyeuse d'un enfant.
﹡﹡﹡﹡﹡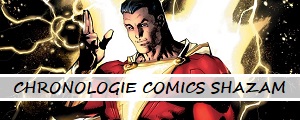 ﹡﹡﹡﹡﹡
Shazam : Fury of the Gods est réalisé par David F. Sandberg et sort aux Etats-Unis le 2 juin 2023, avec Asher Angel (Billy Batson), Zachary Levi (Shazam), Jack Dylan Grazer (Frederick 'Freddy' Freeman), Faithe Herman (Darla Dudley), Grace Fulton (Mary Bromfield), Ian Chen (Eugene Choi), Jovan Armand (Pedro Peña), Rachel Zegler, Helen Mirren (Hespera) et Lucy Liu (Kalypso).