On ne l'arrête plus ! Après avoir signé la musique de Doctor Strange, Spider-Man : Homecoming, Spider-Man : Far From Home, Spider-Man : No Way Home et The Batman, Michael Giacchino (Rogue One : A Star Wars Story, Star Trek) vient de révéler qu'il composera la bande originale de Thor : Love and Thunder. Il succède ainsi à Patrick Doyle, Brian Tyler et Mark Mothersbaugh, ce qui confirme que le fils d'Odin est particulièrement volage quand il s'agit de choisir celui qui mettra en musique ses aventures ! Justement, regrettez-vous Mothersbaugh ? Embaucher Giacchino sur plusieurs franchises ne revient-il pas à rendre les productions Marvel Studios encore plus 'formulatiques' ? La question mérite d'être posée…
[Synopsis extrait des comics] Le fils d'Odin est devenu indigne, il lui est désormais impossible de soulever Mjolnir. Retrouvé sur la Lune, le marteau enchanté est maintenant manié par une femme. Cependant l'identité de la nouvelle déesse du tonnerre reste un mystère. Qui est Thor ?
Me grabbing my next assignment…#thorloveandthunder @thorofficial @TaikaWaititi pic.twitter.com/Kuvyv8rMrc

— Michael Giacchino (@m_giacchino) December 9, 2021
﹡﹡﹡﹡﹡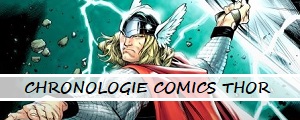 ﹡﹡﹡﹡﹡
Thor : Love and Thunder est réalisé par Taika Waititi et sort aux Etats-Unis le 8 juillet 2022, avec Chris Hemsworth (Thor Odinson), Natalie Portman (Jane Foster/The Mighty Thor), Tessa Thompson (Valkyrie), Jaimie Alexander (Sif) et Christian Bale (Gorr, le Massacreur de Dieux).