The Batman continue de faire des petits. En attendant les séries HBO Max The Penguin et Arkham Asylum – ainsi que l'inévitable The Batman 2 -, nous pourrons découvrir à partir d'octobre… Riddler : Year One ! Cette mini-série sera publiée au sein du fameux Black Label de DC Comics et comptera six numéros. Au scénario de cette préquelle qui nous permettra de mieux connaître Edward Nashton ? Tout simplement Paul Dano, l'interprète du personnage. Quant à la partie graphique, elle sera assurée par Stevan Subic (Conan le Cimmérien : Xuthal la Crépusculaire, M.O.R.I.A.R.T.Y.), qui fera ainsi ses débuts chez la Distinguée Concurrence. Joli projet !
Deux années à arpenter les rues en tant que Batman et à insuffler la peur chez les criminels ont mené Bruce Wayne au coeur des ténèbres de Gotham City. Avec seulement quelques alliés de confiance – Alfred Pennyworth, le lieutenant James Gordon – parmi le réseau corrompu de fonctionnaires et de personnalités de la ville, le justicier solitaire s'est imposé comme la seule incarnation de la vengeance parmi ses concitoyens. Lorsqu'un tueur s'en prend à l'élite de Gotham par une série de machinations sadiques, une piste d'indices cryptiques envoie le plus grand détective du monde sur une enquête dans la pègre, où il rencontre des personnages tels que Selina Kyle, alias Catwoman, Oswald Cobblepot, alias le Pingouin, Carmine Falcone et Edward Nashton, alias l'Homme-Mystère. Alors que les preuves s'accumulent et que l'ampleur des plans du coupable devient clair, Batman doit forger de nouvelles relations, démasquer le coupable et rétablir un semblant de justice au milieu de l'abus de pouvoir et de corruption sévissant à Gotham City depuis longtemps.
A new Riddler comic book hits stores this October with "Riddler: Year One". Written by Paul Dano, unmask your first look here and see #TheBatman only in theaters now. pic.twitter.com/cGEjJJzbAw

— The Batman (@TheBatman) March 18, 2022
﹡﹡﹡﹡﹡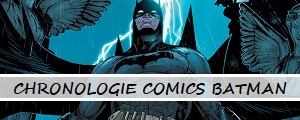 ﹡﹡﹡﹡﹡
The Batman de Matt Reeves est sorti en France le 2 mars 2022, avec Robert Pattinson (Bruce Wayne/Batman), Zoë Kravitz (Selina Kyle/Catwoman), Andy Serkis (Alfred Pennyworth), Jeffrey Wright (James Gordon), Paul Dano (Edward Nashton/l'Homme-Mystère), Colin Farrell (Oswald Cobblepot/le Pingouin), John Turturro (Carmine Falcone) et Peter Sarsgaard (Gil Colson).