Stargirl prépare sa rentrée ! La saison 2 de Superman & Lois est à peine terminée que la chaîne The CW diffuse déjà les premières images de la saison 3 de Stargirl, cette autre pépite qui orbite autour de l'Arrowverse. La star de ce teaser se nomme bien sûr Sylvester Pemberton/Starman, puisqu'on ne recrute pas l'acteur Joel McHale (Community) sans capitaliser un minimum dessus. L'ambiance s'annonce aussi un peu plus légère maintenant que la menace Eclipso est passée, ce qui n'est pas de refus. Bref, rendez-vous cet automne pour découvrir les nouvelles aventures de Courtney Whitmore !
[Synopsis du dernier épisode.] Alors qu'Eclipso (Nick Tarabay) met en branle la dernière partie de son plan, Courtney (Brec Bassinger), Pat (Luke Wilson) et la JSA s'unissent pour l'abattre une bonne fois pour toutes.
﹡﹡﹡﹡﹡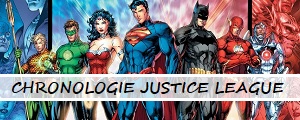 ﹡﹡﹡﹡﹡
La série Stargirl revient à l'automne 2022 sur la chaîne The CW, avec Brec Bassinger (Courtney Whitmore/Stargirl), Amy Smart (Barbara Whitmore), Luke Wilson (Pat Dugan/S.T.R.I.P.E.), Yvette Monreal (Yolanda Montez/Wildcat), Anjelika Washington (Beth Chapel/Doctor Mid-Nite), Cameron Gellman (Rick Tyler/Hourman) et Meg DeLacy (Cindy Burman/Shiv).