Sur son excellente chaîne YouTube, le réalisateur David F. Sandberg a récemment décortiqué la bande annonce de Shazam : La Rage des Dieux, des références cachées – Starro et Titano le Super-Singe – aux effets visuels. Il y a cependant un clin d'œil que Sandberg a oublié de mentionner… la présence de l'interprète de Jamil, alias l'ami de Peacemaker ! Interrogé sur Twitter, voici sa réponse : « Oui, c'est Rizwan [Manji]. Peter Safran l'a recommandé pour un rôle après avoir travaillé avec lui sur Peacemaker. J'ai dit 'Mais c'est le même univers'. Il a dit 'Il est à peine dans Peacemaker ». Je ne savais même pas que Rizwan dansait dans le générique ! Peut-être le même personnage 🤷‍♂️ Jamais nommé dans Shazam 2″ Et James Gunn d'imaginer qu'il pourrait s'agir du frère de ce dernier. Bref, c'est toujours intéressant de voir comment un univers partagé se construit. D'un côté, il y a les fans pour qui chaque clin d'œil est forcément le fruit d'une décision réfléchie… et de l'autre, certains producteurs qui n'en ont pas grand chose à faire !
New Line Cinema présente Shazam : La Rage des Dieux, la suite des aventures du jeune Billy Batson qui, en prononçant la formule magique 'Shazam !', se transforme en son alter ego, le super-héros Shazam, et adopte un corps d'adulte.
Yes that's Rizwan. Peter Safran recommended him for a part after working with him on Peacemaker. I said "but that's the same universe". He said "he's barely in Peacemaker". Little did I know Rizwan is even dancing in the credits! Could be same character 🤷‍♂️ Never named in Shazam 2 https://t.co/50rh5l76xo

— David F. Sandberg (@ponysmasher) July 29, 2022
I think of him as Jamil's more successful brother!

— James Gunn (@JamesGunn) July 29, 2022
﹡﹡﹡﹡﹡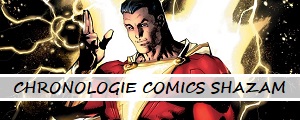 ﹡﹡﹡﹡﹡
Shazam : La Rage des Dieux est réalisé par David F. Sandberg et sort en France le 21 décembre 2022, avec Asher Angel (Billy Batson), Zachary Levi (Shazam), Jack Dylan Grazer (Frederick 'Freddy' Freeman), Faithe Herman (Darla Dudley), Grace Fulton (Mary Bromfield), Ian Chen (Eugene Choi), Jovan Armand (Pedro Peña), Rachel Zegler, Helen Mirren (Hespera) et Lucy Liu (Kalypso).