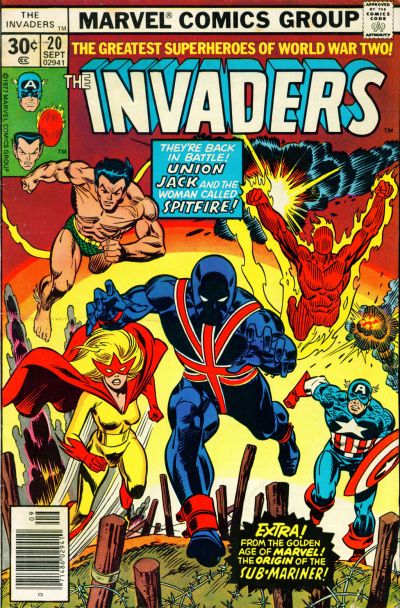 En pleine promotion de The Wolfman (sortie en France demain), Joe Johnston se montre très bavard au sujet de son prochain film, The First Avengers : Captain America. Il n'y a bien sûr aucune raison de s'en plaindre : les nouvelles sont nombreuses et surtout, elles sont excellentes ! La plus excitante concerne les compagnons de Captain America… En effet, Steve Rogers ne sera pas le seul héros à combattre le nazisme, il sera secondé pendant la seconde moitié du film par toute une équipe de superhéros : les Invaders ! Ils formeront une équipe de SIX personnages…
Le film sur Captain America deviendrait-il un film à équipe, où le héros à la bannière étoilée ne serait que l'un des personanges principaux ? A priori non, Cap étant au centre de la première moitié du film. S'il est très enthousiasmant de voir les Invaders à l'écran , cette nouvelle est vraiment une surprise, tant il y avait à faire en développant uniquement le personnage de Steve Rogers. Qui sont les Invaders, et quels membres de l'équipe peut-on espérer voir dans le film ? Justement, ce sont des personnages forts, qui souffriraient d'un simple caméo de quelques minutes (syndrome X-men III). En plus de Captain America (un), la présence la plus évidente est celle de Bucky (James Barnes, deux), le jeune sidekick du héros. Aujourd'hui dans les comics, c'est d'ailleurs lui qui porte le bouclier de Cap.
Le plus célèbre des Invaders est Namor (cela fait trois), le roi d'Atlantis, la cité sous-marine engloutie. C'est un mutant, l'un des premiers, un « homme-poisson », à la force surhumaine, et qui vole grâce à de petites ailes aux pieds (aïe pour le réalisme du film !). Sa présence au sein de l'équipe est incontournable, mais le personnage est tellement important et complexe qu'il ne faudrait pas que sa présence soit anecdotique !
Il reste alors trois places dans le groupe : nous pourrions voir Spitfire, une femme britannique dont le pouvoir est la supervitesse. En plus d'ajouter une touche féminine au film, elle désenclaverait par sa présence british, un film à la base très américain (et sur le papier, difficile à vendre pour l'étranger). Reste Toro et la Torche Humaine… Le problème est qu'ils ont les mêmes pouvoirs (le contrôle du feu), cela ferait doublon aux yeux du public (et aussi avec un autre personnage d'un film Marvel existant, la Torche des Quatre Fantastiques). Le premier est un jeune garçon, le second un être artificiel… Je pense donc que la participation de Toro est la plus probable, la plus « réaliste ». Il ne reste donc plus qu'une place dans le groupe, qui à mon avis sera occupée par Union Jack, l'équivalent anglais de Cap.
Captain America, Bucky, Namor, Spitfire, Toro et Union Jack, voilà à mon avis la composition qui sera adoptée pour le film.
Reste à savoir qui ils affronteront… Et bien nous avons la réponse ! Il s'agit de la némésis de toujours du héros américains, j'ai nommé l'infâme Crâne Rouge ! Un choix des plus logiques.
Autres informations plus techniques, Captain America sera joué par un acteur américain ; le castig doit être bouclé d'ici le 1er mars ; le film sera tourné en HD (la 3D est évoquée… pitié, ce n'est pas nécessaire !) ; le film se déroulant en Europe, il sera tourné en Angleterre (qui sait, peut être l'équipe de tournage ira-t-elle en France pour quelques scènes ?…) ; le rôle principal ne serra pas donné à une star, mais à un relatif inconnu (les noms Chad Michael Murray (One Tree Hill), Ryan McPartlin (Chuck) and Jensen Ackles (Supernatural) reviennent beaucoup, je vote personnellement pour ce dernier !).
Dans tous les cas, on parle d'acteurs jeunes… Lorsque Steve Rogers va se réveiller en 2012 pour The Avengers, j'ai un peu peur que l'équipe soit dirigée par Tony Stark. En effet Robert Downey Jr. semblera plus crédible comme meneur d'hommes grâce à son âge (et à sa popularité), alors qu'en principe, de part son expérience de la guerre, c'est Captain America qui mène les Vengeurs… Idem pour Chris Hemsworth (Thor), qui aura en 2012 à peine 29 ans… Iron Man risque bien d'être au centre de la trinité marvelienne, à moins que les prochains acteurs et réalisateurs réussissent à imposer leurs nouveaux personnages…
En tout cas, dernière révélation, Joe Johnston annonce que son film fera le lien avec Thor et Iron Man… Il y aura des « 3 ou 4 choses » en relation avec les deux personnages, avec le reste de l'univers Marvel. Le film sur Captain America est le centre de la stratégie mise en place par Marvel Studios… et pour l'instant, c'est prometteur !
Le film sort le 22 juillet 2011 aux USA.