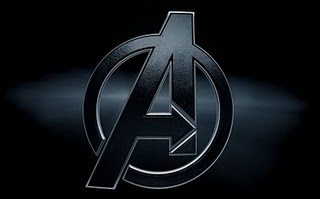 C'était énorme. Pas besoin de les voir en costume. Pas besoin d'avoir une vidéo. Pas besoin de les regarder en vrai…
Le simple fait de contempler le casting complet de The Avengers sur scène, est déjà tout simplement incroyable
, ça file déjà des frissons ! Le clou du panel Marvel était donc la présentation du casting du film événement, qui sortira en 2012. Juste avant, une grosse surprise :
un teaser du film
. Pas une bande annonce de
The Avengers
, mais une très courte vidéo, avec le logo et Nick Fury en voix-off. Le rêve devient réalité !
Le premier à monter sur scène est justement Samuel L. Jackson (Nick Fury). Il présente, sur fond de musique rock d'Iron Man, les acteurs que nous connaissons. Clark Gregg (l'agent Coulson), Scarlett Johansson (la Veuve Noire), Chris Hemsworth (Thor), Chris Evans (Captain America). Et sous un tonnerre d'applaudissements à faire trembler San Diego, Robert Downey Jr. (Iron Man) entre sur scène !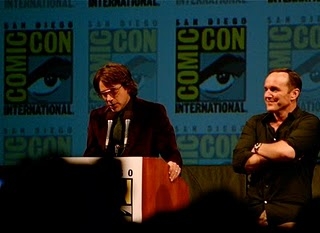 Et c'est maintenant à son tour de faire le show… et il sait y faire ! « Vous avez vu Inception ? C'est le film le plus ambitieux que j'ai jamais vu. Mais j'ai pensé, attendez une minute… Marvel est sur le point de rassembler tous leurs principaux superhéros pour les mettre dans un seul film. CA c'est le film le plus ambitieux de tous les temps ! ». Oh que oui ! Il introduit maintenant les nouveaux acteurs : Jeremy Renner est Œil-de-Faucon, et enfin Mark Ruffalo, le nouveau Bruce Banner/Hulk ! Le dernier à rejoindre ce casting de fou est le réalisateur, Joss Whedon ! Il sera bref. « J'ai toujours eu un rêve, toute ma vie… mais ça n'était pas aussi bon que ça ! Voici ma dream-team, voici les Avengers ! Je suis très nerveux. J'ai besoin de vos encouragements et de votre amour !« . Et sous un tonnerre d'applaudissements renouvelé, il nous donne rendez-vous à l'année prochaine ! Avengers Assemble ! Ca y est, on y est !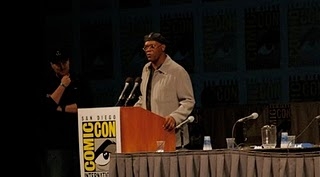 Marvel assome totalement la concurrence, c'est juste énormissime. Je suis euphorique, et je crois que tous les fans partageront mon enthousiasme ! Seul point négatif pour l'instant, l'absence d'Ant-Man (Hank Pym) qui semble se confirmer… Whedon a déclaré dans une interview hier : « Ant-Man ne sera pas dans The Avengers ». C'est dommage, mais regardons la réalité en face : nous avons déjà quatre vengeurs (Iron Man, Thor, Captain America, Hulk), et trois agents du SHIELD (la Veuve Noire, Oeil-de-Faucon, Nick Fury). De quoi remplir l'écran pendant des heures ! Mais la sortie du film est encore loin, et je suis certain que d'ici là, par exemple lors du prochain Comic Con, il y aura des surprises ! Une apparition de Janet Van Dyne alias la Guêpe, pour que Scarlett ne soit pas la seule actrice du groupe ?
J'oubliais…
le site officiel du film
, avec
le logo de The Avengers
, est ouvert… Mais ça paraît tellement peu en comparaison de tout ça ! Première vidéo pour l'ambiance, seconde vidéo pour la qualité d'images ! Mais voir deux fois cette séquence d'anthologie, ce n'est pas un problème ! Et le reste, c'est pour savourer sous un autre angle !