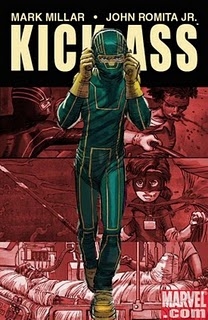 Le retour de Kick-Ass et de Hit-Girl
approche ! Avant de revenir sur les écrans en 2012, ils passeront par la case comic, avec la parution dans quelques semaines de nouvelles aventures, toujours écrites par
Mark Millar
et dessinées par
John Romita Jr.
Au programme, la vengeance de Red Mist contre Kick-Ass, un nouveau superméchant du nom de
Motherfucker
, une équipe de vilains, et sans doute une équipe de héros pour leur faire face… Et au milieu de tout ça,
Hit-Girl, qui a fait une promesse à son père
, juste avant qu'il ne meurt : arrêter de trucider tout ce qui bouge ! La nouveauté du jour, ce sont les premières images de
Kick-Ass 2 – Balls to the Wall
, les premières cases, qui seront sans doute adaptées scrupuleusement à l'écran par
Matthew Vaughn
.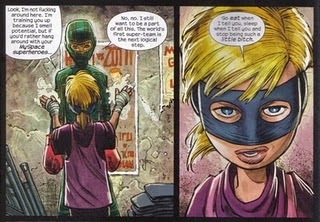 Le début est surprenant, puisque Kick-Ass et Hit-Girl/Mindy n'ont pas abandonné leurs activités superhéroïques ! Et devinez qui entraîne Kick-Ass ? Une Hit-Girl, plus combattive que jamais. Tous deux ont pour objectif l'intégration d'une équipe de superhéros… Dans les cases suivantes, on découvre que Mindy habite toujours chez l'ami policier de son père. Mais elle mène un double jeu, assurant avoir une vie tout à fait normale, et n'ayant plus vu Kick-Ass depuis des mois… Sauf qu'il n'en est rien, et Mindy est confronté à son mensonge : une jolie cache d'armes en dessous de sa salle de jeux ! Ainsi qu'un AK-47 dissimulé dans un ours en peluche ! On ne se refait pas ! Du 100% Millar.