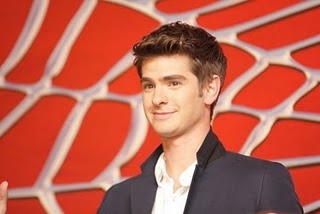 Andrew Garfield
, alias le nouveau Peter Parker/Spiderman dans le film-reboot réalisé par
Marc Webb,
s'exprime ! Dans une interview accordée au
The
Hollywood Reporter,
l'acteur parle enfin : il faut dire que
depuis l'annonce de sa participation au projet
, rien n'avait filtré. Motivé à 200%, voici sa réponse quand on lui parle du film, dont
le tournage ne devrait pas débuter avant décembre
(un Spiderman hivernal ?).
« J'ai attendu cet appel téléphonique depuis 24 ans, cette personne qui m'appelle pour me dire, « Hey, nous vous voulons pour le personnage que vous avez toujours voulu incarner, et nous allons le faire avec des caméras et des effets cools et vous allez virevolter à travers la ville de New York. Vous voulez faire ça ? » [rires] « Laissez-moi consulter mon esprit d'enfant de 7 ans et voir ce qu'il en pense ». Mon esprit d'enfant s'est mis à hurler et a dit que c'était ce que nous attendions depuis des lustres. Comme chaque petit garçon désirant se sentir plus fort à l'intérieur, comme tous ces petits garçons maigres qui souhaitent que leurs muscles gonflent avec l'injustice. Mon Dieu, tout ça n'est qu'un rêve. C'est un p***** d'honneur d'être ce symbole qui, je pense, est super important et c'est une chance pour moi car ça signifie quelque chose pour les gens. Donc oui, je me suis préparé à ça depuis longtemps. En fait, depuis l'Halloween de mes quatre ans, où j'ai porté mon premier costume de Spiderman. »
En un sens, c'est la réponse (trop ?) parfaite ! Pour ceux, comme moi, qui ne connaissent pas Andrew Garfield, nous pourrons le découvrir le 13 octobre 2010, dans The Social Network (alias « le film sur Facebook« ) de David Fincher, où il incarne l'un des personnages principaux !