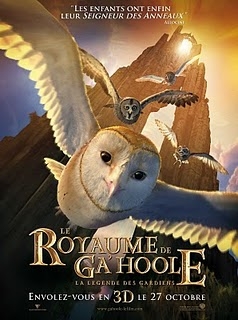 Triple actualité pour le prochain film de
Zack Snyder
! Sur votre gauche,
l'affiche française du Royaume de Ga'Hoole – La Légende des Gardiens
, avec comme phrase promo « 
Les enfants ont enfin leur Seigneur des Anneaux
 » ! Mais alors, Narnia, c'est pour les chouettes ? Plus sérieusement, voici
trois bannières magnifiques
: le camp du bien, incarné par les chouettes Gylfie et Digger, le camp du mal avec la reine Nyra, et entre les deux, une bannière qui reprend le visuel d'une des dernières affiches. Pour finir, un peu de musique, avec la chanson officielle du film :
To the Sky, interprété par Owl City
. Owl, chouette : ça ne s'invente pas ! Pour les plus fans, les paroles sont même disponibles. La BO du film, composée par
David Hirschfelder
, sera disponible le 21 septembre.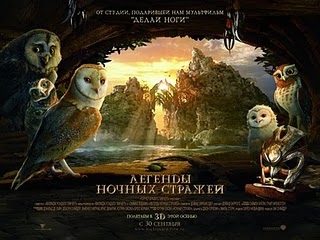 Shipwreck in a sea of faces
There's a dreamy world up there
Dear friends in higher places
Carry me away from here
Travel light, let the sun eclipse you
'Cause your flight is about to leave
And there's more to this brave adventure
Than you'd ever believe
Birds-eye view, awake the stars 'cause they're all around you
Wide eyes will always brighten the blue
Chase your dreams, and remember me, sweet bravery
'Cause after all those wings will take you, up so high
So bid the forest floor goodbye as you race the wind
And take to the sky (you take to the sky)
On the heels of war and wonder
There's a stormy world up there
You can't whisper above the thunder
But you can fly anywhere
Purple burst of paper birds
This picture paints a thousand words
So take a breath of myth and mystery
And don't look back
Birds-eye view, awake the stars 'cause they're all around you
Wide eyes will always brighten the blue
Chase your dreams, and remember me, sweet bravery
'Cause after all those wings will take you, up so high
So bid the forest floor goodbye as you race the wind
And take to the sky (you take to the sky)
There's a realm above the trees
Where the lost are finally found
Touch your feathers to the breeze
And leave the ground
Birds-eye view, awake the stars 'cause they're all around you
Wide eyes will always brighten the blue
Chase your dreams, and remember me, sweet bravery
'Cause after all those wings will take you, up so high
So bid the forest floor goodbye as you race the wind
And take to the sky (you take to the sky) x2