Voici sans doute
la première « révolution » visible, entraînée par le rachat de Marvel par Disney
. En intégrant la société de Mickey Mouse, la Maison des Idées se trouve entre les mains d'un véritable empire du divertissement : cinéma, parcs d'attractions, magasins, presse et… télévision ! Depuis le mois de juin, qui a vu la nomination du scénariste et producteur
Jeph Loeb
(
Smallville, Lost, Heroes
) à la tête de la division télé de Marvel, les projets se multiplient, mais ils étaient jusqu'à maintenant entourés de mystères… Ce n'est plus le cas aujourd'hui :
ABC (groupe Disney) et Marvel prépare le grand retour des superhéros à la télévision
! Après une série Hulk entre 1978 et 1982,
le Géant de Jade devrait revenir sur les écrans, Hulk étant l'un des deux projets prioritaires de Marvel Television
. Décidemment, Bruce Banner alias l'Incroyable Hulk aime changer de tête : Bill Bixby et Lou Ferrigo dans la série des années 80, Eric Bana en 2003, Edward Norton en 2008, et enfin Mark Ruffalo en 2012 pour les Vengeurs ! Avoir le Colosse Vert en série, c'est bien le dernier personnage sur lequel j'aurais parié !
Car pour éviter le ridicule, il faut avoir le budget, ce qui n'est pas toujours le cas à la télévision…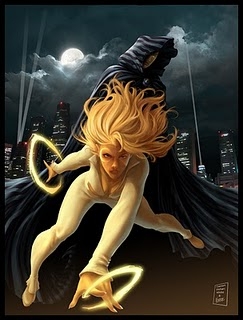 L'autre piste évoquée est une série sur La Cape et l'Epée (Cloak and Dagger). Personnages secondaires de l'univers Marvel (mais identifiables par tous les bons fans de comics !), ils sont jeunes et évoluent dans un univers urbain. La Cape (Tyrone Johnson) a le pouvoir de se téléporter et de créer des portails vers une dimension magique, le tout grâce à une cape. Tandy Bowen alias L'Epée peut quant à elle lancer des lames d'énergie… Superhéros, détectives, luttant contre la drogue (ils ont été les victimes des expériences d'un dealer), la place de ce duo de justiciers varie aujourd'hui selon les séries. Un choix intriguant qui – j'imagine – mènera peut-être à une série policière-urbaine-superhéroïque… A moins que la production insiste sur le côté jeune et fugueur des héros (du moins à leur début).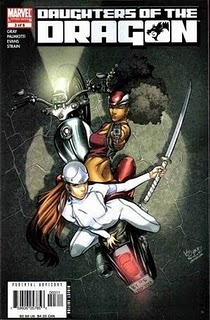 D'autres projets sont à l'étude, à un stade moins avancé :
• Heroes for Hire/Les Héros à louer (l'équipe "à louer" de l'ex-prisonnier Luke Cage, qui offre ses services pour lutter contre le crime)
• The Eternals/Les Eternels (une race d'êtres vivants ayant des pouvoirs, et vivant au milieu de l'humanité en secret, inspirant les légendes)
• Agents of Atlas, Alter Ego (Jessica Jones, détective privé, travaille sur des affaires impliquant des super-humains)
• Moon Knight, the Red Hood (un criminel découvre une cape qui lui donne des superpouvoirs)
• Ka-Zar (une sorte de Tarzan, avec un tigre à dents de sabre, qui voyagent vers la jungle urbaine pour obtenir la justice)
• Daughters of the Dragon (un duo de femmes ouvrant un cabinet de détectives privés, l'une a un bras bionique, l'autre est la petite-fille d'un samouraï)
• The Punisher (un justicier sans limites engagé dans une guerre contre le crime – déjà adapté au cinéma).
Du policier et encore du policier ! Certains choix sont étranges (les Eternels, Ka-Zar), car ils ne se prêtent pas vraiment à une adaptation… Il y a aussi des incohérences : Jessica Jones n'est pas membre du groupe Agents of Atlas ; Red Hood et Moon Knight sont deux personnages différents… Mais dans l'ensemble, des séries comme le Punisher, Héros à louer, ou bien encore Moon Knight, pourraient tout à fait combler un large public. Une série, deux séries, trois séries : comme pour les films, Marvel va peut-être réussir dans les prochaines années à créer un univers immense ! Pour vous, quel serait la série que Marvel doit concrétiser sur le petit écran ?