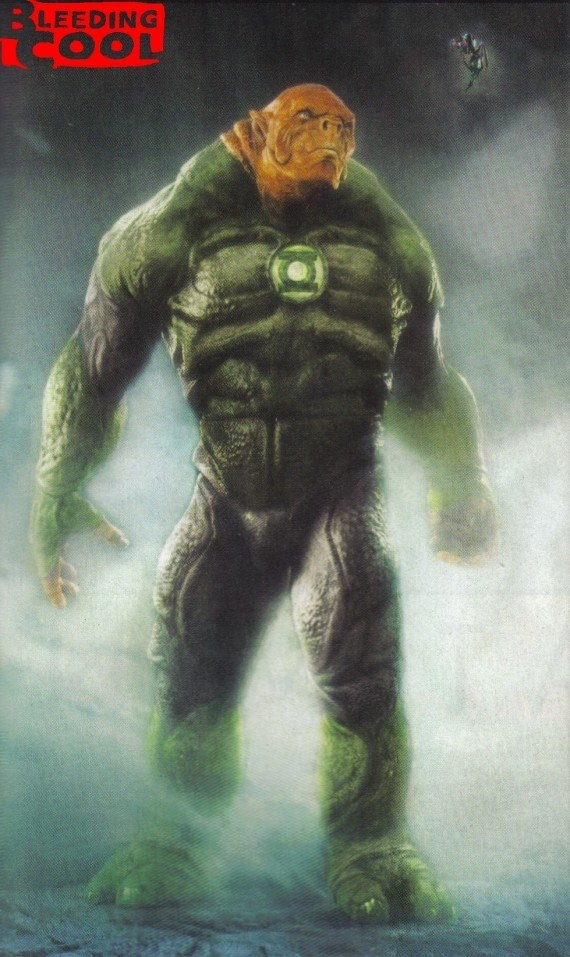 Je veux bien parler des produits dérivés.
Sauf qu'avec Green Lantern, la seule production DC Comics de l'année au cinéma, les produits dérivés, il n'y a que ça !
Hal Jordan a-t-il montré le bout de son anneau au Superbowl ? Non. Le seul membre terrien du
Green Lantern Corps
était-il présent au
Toy Fair 2011
, en la personne de son interprète, l'acteur
Ryan Reynolds
? Non plus. La Warner laisse-t-elle filtrer quelques images pour rassasier les fans ? Pas plus. Et pendant ce temps là,
Thor
et
Captain America
font toujours monter le buzz sur la toile. Mais pas
Green Lantern
. Pour sauver l'honneur, il y a quand même
deux images de Kilowog…
qui n'ont même pas été publiées sur internet de façon « officielle » ! Ci-dessous, vous trouverez un petit échantillon de la foultitude de figurines Mattel, qui déclinent l'univers
Green Lantern
sous toutes les formes possibles. Et juste avant,
la bande annonce de Green Lantern – Rise of the Manhunters
.
Un jeu dans l'univers du film
, mais avec un scénario original… et
une modélisation de Ryan Reynolds assez bluffante
(sans oublier un surpuissant Sinestro, avec son énorme pistolet d'énergie !). Si à cela on ajoute une date de sortie fixée au 3 août 2011 en France, soit
un mois et demi après la sortie US (17 juin)
, il n'y a pas de quoi sauter au plafond !