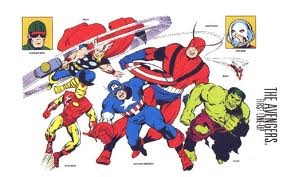 The Avengers
ou le film de superhéros qui s'annonce (et qui doit) être le blockbuster ultime… Pour cela il faut un budget conséquent. Ce genre d'information est toujours sensible pour les studios, et le public intéressé doit se contenter le plus souvent de vagues estimations. Toujours est-il qu'aujourd'hui, par l'intermédiaire de
la

Greater Cincinnati and Northern Kentucky Film Commission

(l'organisme qui s'occupe des tournages, dans l'une des régions américaines qui accueillera la production Marvel, l'Ohio), aujourd'hui donc, nous apprenons finalement l'estimation du

budget de The Avengers : 170 millions de dollars

. Rien que dans l'Ohio, 30 millions seront dépensés dans des
prises de vues qui dureront deux semaines. Peut-être certains d'entre vous diront que 170 millions, ce n'est pas assez. Il y a tout de même plusieurs éléments à prendre en compte. Tout d'abord, il s'agit d'

une estimation

, et non d'un chiffre officiel. D'ici le mois de mai 2012, beaucoup de choses peuvent changer. Citons dernièrement

Green Lantern

, dont le budget a été rallongé de 9 millions de dollars, pour améliorer les FX (150 millions + 9 millions = une belle enveloppe de 160 millions, qui semble néanmoins bien modeste quand l'on regarde l'ampleur des effets spéciaux). Autre point à prendre en compte :

les réductions fiscales

accordées par les villes accueillant la production. Si on enlève ces « cadeaux », nous sommes sans doute proche des 200 millions (le chiffre magique !).

The Avengers n'est pas une suite, mais la production ne part pas de rien. L'armure d'Iron Man, les logiciels pour modéliser Hulk, le développement du costume de Thor, la création d'un bouclier pour Captain America. Certes, ces éléments pourront subir de légères modifications, mais dans l'ensemble, Marvel travaille avec les mêmes acteurs, techniciens et technologies : cela compte. Le réalisateur Joss Whedon est aussi un avantage à lui tout seul : venant du monde de la TV, il est habitué à faire beaucoup avec peu, et à tourner vite. En quelques années, Marvel Studios a acquis la réputions d'un studio proche de son argent : mais The Avengers est heureusement leur deuxième plus gros budget à ce jour. C'est plus qu'Iron Man (140 millions), L'Incroyable Hulk (150 millions),
Thor

(150 millions) et

Captain America

(
140 millions), mais moins qu'
Iron Man 2

(200 millions),
.
Nous sommes bien loin des extravagances d'un Spiderman 3 (258 millions), sur lequel pesait le poids du cachet des acteurs-stars. Et c'est moins qu'un Spiderman 2 (200 millions), ou qu'un X-Men 3 (210 millions). Marvel a eu le « génie » de créer son univers partagé cinématographique en liant les acteurs à leur rôle, avec des contrats de 3, 6 ou 9 films. Sans ce procédé, je suis certain que les cachets auraient explosé, avec un budget dépassant allégrement les 200 millions. Le budget de The Avengers semble donc suffisant et normal, pour donner un film à la fois impressionnant visuellement, et rentable financièrement. Et puis tout simplement, un budget ne fait pas la qualité d'un film, ni son niveau d'excellence visuelle (150 millions pour Transformers !).
Et pour vous, 170 millions, est-ce trop ou pas assez ?