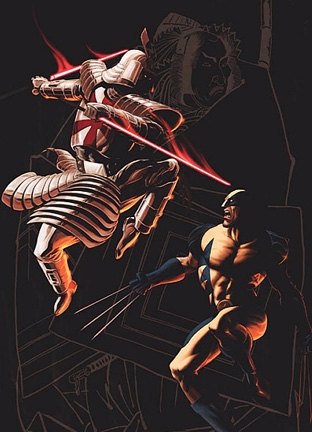 Venu promouvoir au
Comic Con
son nouveau film,
Real Steel
,
Hugh Jackman en a profité pour faire le point sur The Wolverine
, la suite-
reboot
du film de 2009, et ainsi, officialiser quelques détails… « 
Je vais tourner dans Les Misérables en février, mais avant ça, je vais faire

Wolverine 2 en octobre

. Chris McQuarrie a écrit un scénario fantastique, et ça devrait être vraiment bien.

Je vais combattre le Samouraï d'Argent

, ça va être excitant. La plupart du tournage va se faire au Japon.
 » Ce n'est bien sûr pas une surprise :
Kenichiro Harada alias le Samouraï d'Argent
est l'ennemi logique pour une aventure griffue au pays du Soleil Levant. Voici ce que nous dit l'encyclopédie
Marvel-World
à propos de ce personnage :
Le Samouraï d'argent est

un mutant capable de canaliser de l'énergie à travers n'importe quel objet, utilisant habituellement son pouvoir avec son épée

, créant alors un champ de tachyons autour de la lame, qui lui permet de trancher presque tous les matériaux, à l'exception de l'adamantium.
Des yakusas, un clan japonais, une histoire d'amour impossible, un samouraï, et des
SNIKT
à gogo
: voici les ingrédients probables de ce nouveau film !
The Wolverine sera réalisé par James Mangold
(
Walk the Line, 3:10 pour Yuma, Night and Day
), pour une sortie en 2012 (2013 ?).